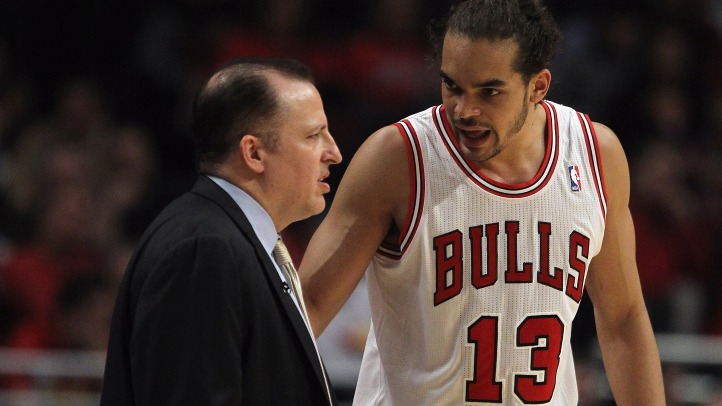 With their first round playoff series against the Brooklyn Nets tied at one game apiece, Chicago Bulls center Joakim Noah says "it's not time to exhale right now."
Like a boxer in the ring, the Bulls have been dealt blow after blow all season, and responded well enough to earn the 5th seed in the Eastern Conference.
After a blowout loss in game 1 where Noah struggled, he returned in game two and will again play game three Wednesday night with painful plantar fasciitis in his right foot.
"It actually feels better," Noah said Wednesday.
The Bulls big man played 25:29 minutes in the win over Brooklyn, scoring 11 points with 10 rebounds.
"It feels like you have needles underneath your foot while you're playing," said Noah.
Bulls head coach Tom Thibodeau said Noah hasn't practiced in months because the condition affects his foot speed and agility.
"His feet are really what makes him so special. The guy can guard pick and rolls, he can catch and shoot, transition, can switch him out onto people when teams go small, you can put him on a perimeter player," Thibodeau says.
Noah isn't the only one battling a foot injury. The Nets' six-time all star Joe Johnson is too. After scoring 17 points in 39:33 minutes of game 2, plantar fasciitis flared up in the playmaker's left foot after the Nets loss.
Noah is likely to play in the 25 minute range for game 3 while Johnson is a game time decision for Brooklyn. After sitting out Wednesday's practice with the Nets, Johnson said he was "hopeful."
Thibodeau was told Johnson's status after the Bulls practice in Deerfield and smirked "oh, he'll play."
Noah added "it's the biggest game of the season."