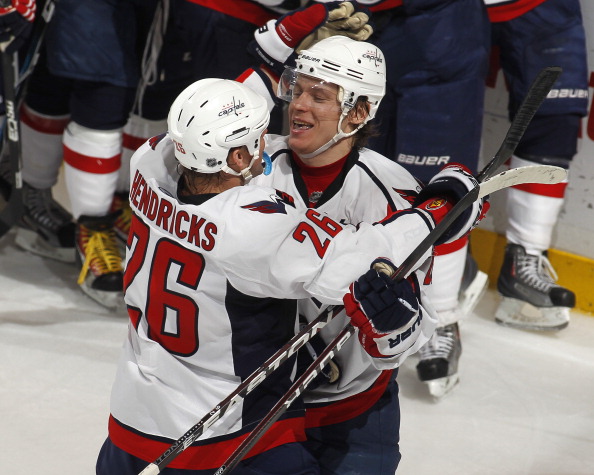 Now the Hawks can see what it's like to face a streaking team.
With the Western Conference really starting to resemble Grand Central at rush hour on a Friday, points are becoming oxygen. The Hawks could be in a six-way tie for fifth, depending on how things shake out on Saturday, with the Predators only a point behind that gawker-jam.

Unfortunately with the way the results have gone this week, the Hawks are going to have to find a way to get two points from the Eastern Conferences hottest team.
The Washington Capitals have won seven straight. After a wonky start to the year which included a methadone clinic of a losing streak in December, the Caps are now taking dead aim at the top spot in the East, only two points behind leaders Philly.

This recent streak, however, has come against teams in the league that you'd find at the Salvation Army, or in other words, the league's dregs. Two of the wins came against the Islanders, one against the Blues, one against Florida (you can do that), and one against the Canes in their last effort on Friday.
None of these are playoff teams. And other than a game against the equally-inept Oilers, the Caps haven't managed more than three goals in any of them. But wins are wins, no matter how you get them.
The Caps haven't been helped by injuries either, as top center Niklas Backstrom and goalie Semyon Varlamov will both be in the skybox Sunday. The latter hasn't been missed, as Washington conjured up something called Braden Holtby, and he's gone 5-0-1 while giving up less than a goal per game and stopping just a shade under 98 percent of the shots he's seeing.

So while they may not be scoring much, they don't have to as long as Holtby is barely turning around to see what's behind him.
Obviously, the Caps are led by Ritalin-spokesman Alex Ovechkin. Though Alex the Great is having a down year for him, most players in the league would volunteer to have experimental surgery in an uncomfortable place to have 28 goals and 73 points. Vodka-mate Alex Semin has 25 goals, with three in his last four, and also possesses the quickest release in the league.
But the Capitals still have a lot of people to convince about their depth at center and on defense.

Especially with Backstrom out, this group of centers is uninspiring, and that's being kind. The top line is anchored by rookie Marcus Johannsson, and the second by rotting corpse Jason Arnott, who couldn't keep up with the Hawks last spring when he was a Predator. Boyd Gordon and Matt Hendricks round out the crew, and one has to believe that Jonathan Toews will be giggling in his sleep at the thought of squaring up with any of them.
The defense is also goofy. While they can both score, Mike Green and recent acquisition Dennis Wideman are a borderline joke in their own end. Kids Karl Azner and John Carlson show promise, but who wants to count heavily on a 21- and 22-year-old for all your defensive shutdown needs?

Then again, with Holtby basically being a Pink Floyd album between the pipes, maybe it doesn't matter.
Should be fun.
Copyright FREEL - NBC Local Media