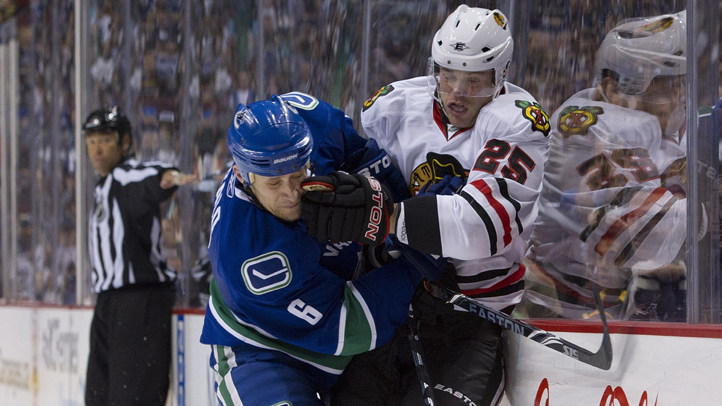 Chris Higgins and Jannik Hansen scored in the first period, Roberto Luongo made 32 saves, and the Vancouver Canucks beat the Chicago Blackhawks 2-0 in the first-round playoff opener on Wednesday night.

Corey Crawford made 31 saves in his first playoff start as Chicago opened its defense of the Stanley Cup with a loss.

The Canucks are the top seed in the Western Conference and the Presidents' Trophy winners, but the Blackhawks aren't the average No. 8 seed. Chicago knocked the Canucks out of the playoffs the previous two seasons and was formidable again in Game 1.

Blackhawks captain Jonathan Toews hit the post twice in the second period, Michael Frolik rang a shot off the iron with 7:30 left, and Luongo was forced to make a couple of tough saves to keep Chicago off the board.

Vancouver will host Game 2 of the series on Friday.

After a raucous welcome from 18,630 towel-waving fans, Higgins opened the scoring 7:03 in with a deflected point shot that caught Crawford sliding to his right as the puck was tipped left. Hansen doubled the lead on a breakaway just over three minutes later with a shot over Crawford's glove.

Chicago had a couple great chances to get back in the game before the period ended, but Patrick Sharp and Patrick Kane failed to connect on a 2-on-1. Luongo robbed Brian Campbell on an empty-net backdoor chance with 1:30 left.

Luongo, lit up by Chicago in the second round the last two years, threw out his right pad and got a toe on the puck at the goal line after a beautiful cross-ice pass from Kane out of the corner. The puck bounced off the post and out for Luongo to smother.

Crawford, playing his 28th straight game, made a couple of good saves early in the second _ and got a break when Mikael Samuelsson hit the post for a second time. Chicago took over the final eight minutes of the second, with Toews hitting a post, and Luongo robbing Sharp on a rebound batted out of the air with 3:41 left in the period.

Crawford made another good save on a 2-on-1 shot for regular season scoring leader Daniel Sedin 1:45 into the third. But Luongo kept answering, stopping Brent Seabrook's blast with Sharp on top of him two minutes later for his second career playoff shutout.

Vancouver came out trying to hit everyone in a Blackhawks sweater. At times it left the Canucks exposed defensively, but also hurt Chicago. Tomas Kopecky left in the second period because of an upper body injury, and former Canucks center Ryan Johnson limped off midway through the third.

Chicago had won five straight playoff games in Vancouver, but lost the opening game of its previous two series before rallying to knock out the Canucks.
Copyright AP - Associated Press