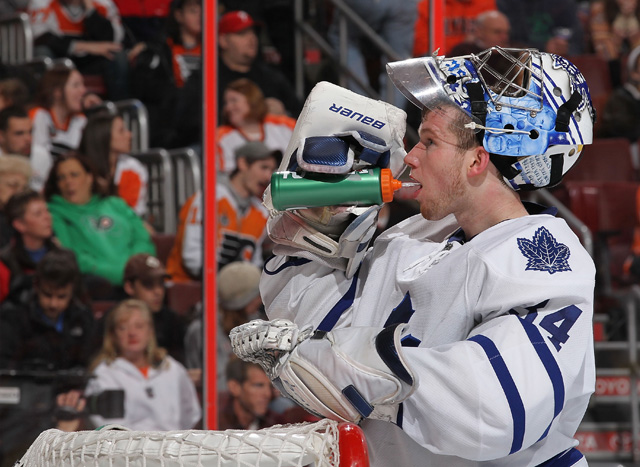 For those of you new to the Black and Red Bandwagon, you won't remember when this was one of the more viscious rivalries around.

Yes, the Maple Leafs used to be in the same division as the Hawks; first the Norris and then the Central. Sadly since their move to the Eastern Conference, we hardly see those for whom we had such bile. But any game involving two Original Six teams gets the pulses raised, and such will be the case for the Hawks on Saturday evening.

In addition, they will be on Hockey Night In Canada on the CBC, which all these guys grew up watching as kids and I'm sure is a very big deal to them. It's going to be a passionate affair for sure, and no doubt the Air Canada Center will have just a touch of atmosphere with the defending champs and hottest team in the league rolling in.
If there's a team as hot at the Hawks, it's the Leafs. They've gone 10-2-4 since the All-Star break, going from 14 points out of a playoff spot to just three, as Atlanta and the Rangers have gone all Martin Sheen off the roof in The Departed.

And there's no bigger reason than rookie James Reimer in net. It's funny, before taking over the cage 12 games ago, the Leafs gave up 29.6 shots per game. Since Reimer was installed, it's 33.5. But their goals-against go down because Reimer has bothered to actually stop the puck, something with which their other goalies, J.S. Giguere and Jonas Gustavsson, didn't seem all that interested in doing.
When playing the Leafs, you have to ward off the threat of the top line of Mikael Grabovski, Nikolai Kulemin, and Phil Kessel. All three of them have over 45 points, and the Leafs have only one other over 30 in Clarke McCarthur.

Kessel is the real danger, and although he's a complete and utter tool, he can score. In fact, it's all he does. He won't backcheck, he rarely passes, and is basically set to just score. Last year he scored twice at the United Center. Keep this line at bay and the Leafs run out of weapons to hurt you in a hurry.
On the backend, Captain Dion Phaneuf has always been the lead file in my "Most Overrated" folder.
He joined the rush when there was none, leaving his team exposed. But being shipped to Toronto and getting the "C" has apparently gotten to him, as he's playing his best hockey right now. He's eschewed the thunder clap of a slapshot that he couldn't get on net and settling for just getting it through, causing rebounds and havoc on which the Leafs are capitalizing.

He's not running around as if charging the English army, just playing a sound game.
No word on if Marty Turco will get the start or not, but one imagines he does. Other than that you wouldn't expect any lineup changes.
Eight is better than seven.
Copyright FREEL - NBC Local Media