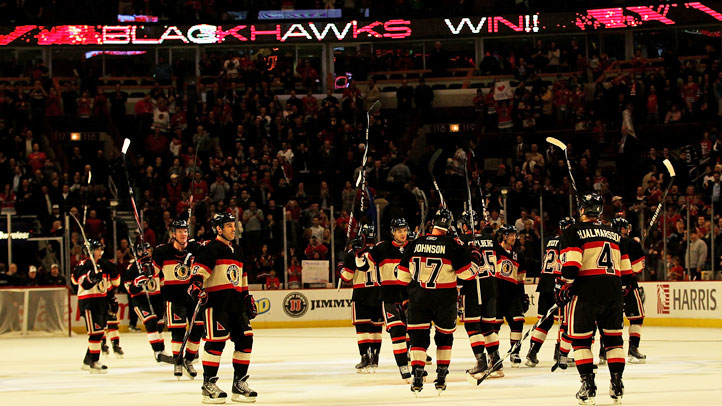 This is a regular thing that I've sort of let twist in the wind, like all the women in my life (how I wish). But I'm coming back to it, just like all the women in my life (how I wish).

Let's take a look at some numbers and stats that you might not often see:
11.8 - This is Viktor Stalberg's season-long CORSI Rating relative to the rest of the team. Basically, to put in terms the proletariat can understand, for every 60 minutes that Vik is on the ice the Hawks attempt almost 12 shots more than they give up. What's more stunning is that he's doing most of this work from the fourth line. Now, it needs to be said that he gets the least minutes and that this number gets a tad inflated when extended over 60 minutes. But as a fourth liner, all you are asked to do is keep the puck in the other end and not let it get in your net, and Vik and his mates have done an excellent job of that. When he uses his size and speed, which are both a plus, Stalberg is quite a fourth line weapon. He's basically become Ben Eager without the snarl but with a lot less brown of a brain.
0.138 - This is the Quality of Competition that Dave Bolland has faced, hardest on the team. It would take far too long to explain how this is computed, so just go to Behind The Net.ca and they can do a much better job than I can. What's impressive is that as hard as I was on Bolland for the first half of the year, he's seeing the other team's best and he's coming out plus. The burden of checking the other team's top line and also chipping in scoring would seem too much, and may yet prove to be, but he and Hossa are pulling it off for now.
14.1 - This is Jonathan Toews shooting percentage this year, which is not a career high. His first two years saw percentages of 16.7 and 17.4, so his 27 goals have come with a lower haul of shots going in. It's not surprising, as he's going to surpass his career high in total of shots in the next few games. Hawks fans shouldn't expect his scoring to drop, because over a season he's not potting red lights at any higher of a rate than normal. If anything, his recent binge is merely a market correction.
34.3% - What's made Bolland and Hossa's scoring recently even more impressive is that's the percentage of draws they take in the offensive zone. So more than 65 percent of the time Bolland and Hossa have to work the puck from their own end up to the other and then score when they get there. Again, this doesn't appear to be a model for long-term success, but maybe #36 and #81 are just good enough to do it.
Copyright FREEL - NBC Local Media