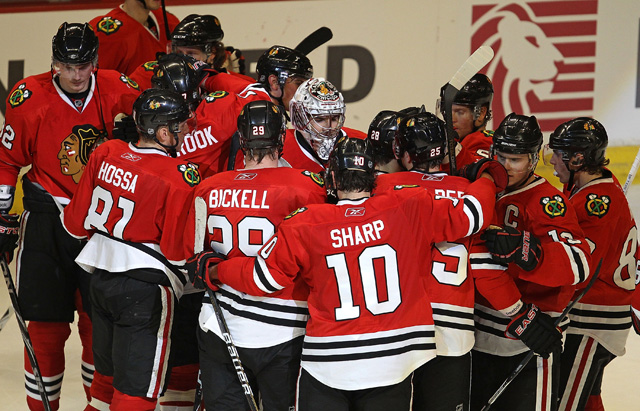 With seven wins in their pocket, the Hawks hit the road for a stop in the hockey capital of the world, or so they would tell you it is, followed by a sojourn to the warmer climes of this country. What's in store for the Hawks?
Saturday at Toronto: It was only a month ago we were all having a good laugh at the Leafs, who once again took the biggest following in hockey down dumpster diving with them and another season looked lost. Parts were stripped as star defenseman Tomas Kaberle was sent to Boston and Kris Versteeg to Philadelphia. Phil Kessel started to complain and moan, as is his way, and looked like he could have been headed out. But the Leafs have taken points in their last nine games, going 6-0-3 in that time, and they have the goalie they never counted on to thank. James Reimer, or Optimus Reim as the nerd quotient in TO have taken to calling him, was behind prized acquisition J.S. Giguere and ballyhooed signing Jonas Gustavsson. But since taking the reins, Reimer's gone 8-1-3 with a SV% of .930.
Tuesday at Florida: Interesting note about the Panthers. They suck.
Wednesday at Tampa: Perhaps the surprise team of the league, everyone knew the Bolts would improve but few would have seen them leading the division and an outside shot at the conference. There are plenty of weapons here, led by league-leading goal-scorer Steven Stamkos (who has 41). He and linemate Martin St. Louis are both in the top five in points. and Vinny Lecavlier is lurking on the second line, where he'd be the top center for a great percentage of teams. The Ning love to get up and down the ice, this one could be a track meet.
Next Sunday at Washington: After a brief stop at the White House, which will provide an excellent forum for John McDonough to pat himself on the back for hours, the Hawks have a date with the constantly in the shop car that is the Washington Capitals. The Caps have just been off all year, with last year's playoff disaster forcing them to try and transition to a more defensive team that they simply are not built to be. The pressure is getting to them, their scoring is way down. But they've won five of six, and perhaps things are clicking into gear finally. But they haven't scored more than three goals in any of those games, and you still wouldn't trust them to lock down a team like the Hawks. Oh, and there's the whole Ovechkin and Campbell meeting for the first time since Ovie nearly crippled Campbell last year thing. Should be fun.