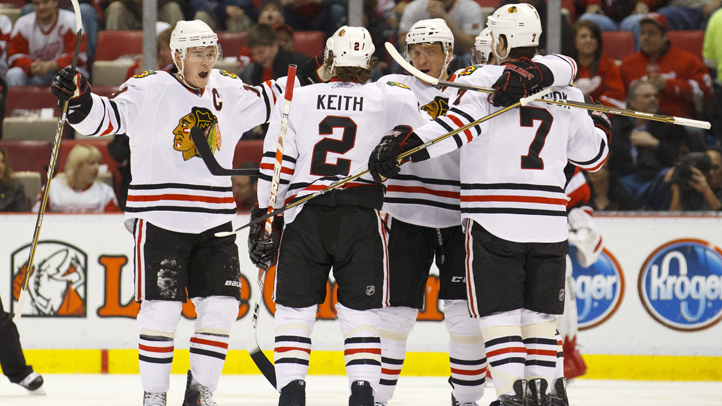 One would think a complete pantsing of the Detroit Red Wings -- the Hawks' fourth straight this season and also marking a clean sweep the home for the damned Joe Louis Arena -- would be a time for celebration, or even just a chuckle.

But for the Hawks and their fans, it was only a half-step in the right direction, thanks to other results (more on those later).
However, we can all comfort ourselves that if the Hawks can duplicate that effort (I've said those words so many times this season they've lost all meaning) Sunday, then the Hawks will get to keep playing.

Moreover, it is likely the Wings will have nothing to play for, as they will be locked into third in the conference.
But for now, let's focus on Friday night's win. Simply, the Hawks were everywhere the Wings weren't, or couldn't get to.

I don't know if Detroit is just waiting for the playoffs, if they're greatly affected by the absence of Henrik Zetterberg, or if they're in some serious, fading trouble, but they played as if in a fog.

Countless times in their own zone was a Wings puck carrier chased down by a Hawk and turned over. This from the team that defined puck-possession.

They were second to every loose puck, lost every board battle, and their defensive coverage was on the same level as the young mother on her cellphone as her child attempts to leap off the top of the slide.
That's not to take anything away from the Hawks, who came out with the desperation that was required.

Brent Seabrook's goal 27 seconds in could not have been a better tonic. The Hawks were clearly relaxed though still played as if their lives depended on it, because it did.

An immediate cushion of knowing a mistake would only bring them back to level was clearly appreciated. And even that was only for a couple more minutes, when Patrick Kane swatted the puck out of Valtieri Filppula's hands and right to Ben Smith in the slot.

Normally, you don't expect a rookie in his fifth NHL game and looking for his first NHL point to take his time, pick a corner and hit it. Smith did.
After Brian Campbell waltzed pass a dozing/drooling Todd Bertuzzi to cooly slide around Jimmy Howard for the Hawks third, this thing was in the bag.
- I guess I shouldn't be surprised at the effectiveness of Ben Smith. This kid was MVP of the Frozen Four last year, college hockey's answer to the Final Four. So it's pretty clear he relishes the big occasion. I don't know if he can keep it up for however long this season goes, but I'm certainly more than willing to let him try. He, Patrick Kane, and Michael Frolik have found a real chemistry already, despite resembling the seven dwarfs off to work. But their speed, and Kane's hands, are tough for anyone to deal with.
- No one had to break the bank minutes-wise, which could come in handy Sunday, as if things get hairy you can be sure that the top-end guys will be called upon to log some very heavy minutes. Let's hope it doesn't come to that.
No one's getting out of this weekend alive.