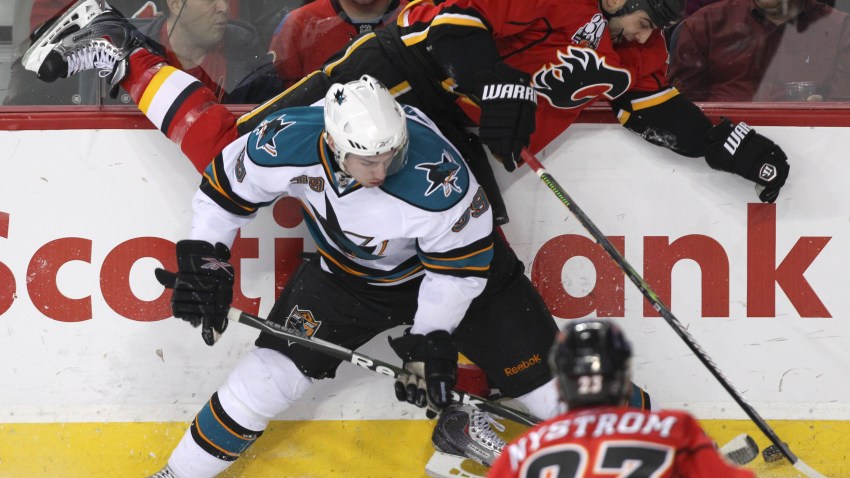 The joy of six?
The Blackhawks on Wednesday will find out if they can grab another win against a competitor for a place at the dinner table in the shape of the Calgary Flames.

According to all reports, everyone is going to play, and that included new acquisition Chris Campoli, who will take Jordan Hendry's normal spot alongside Brian Campbell.

From what we've heard from our Senators friends, Campoli's game has looked a lot like Campell's this year, perhaps just in a "lite" version, as he's sacrificed some of his aggressive, offensive tendencies to display a more solid, defensive game. Perhaps they're too similar, or perhaps they'll compliment each other perfectly. We'll soon find out.

Niklas Hjalmarsson didn't skate Wednesday morning, but will play in the game. He's been limited the past few games, and hopefully the Hawks won't need him at his best. The lines and pairings are all the same from previous games.
The Flames set up shop here in town after two consecutive wins over the St. Louis Blues, otherwise known as "marking your free spot on the bingo card." They rolled them Tuesday in Missouri 6-0, with five of those goals coming in the third period as the building collapsed around the Blues' ears.

The Flames have been on a ridiculous run for two months now, rolling up a 17-5-6 record in that time. Before that, they were in the discussion for first overall pick. But then their GM Darryl Sutter quit, and he had apparently been making everyone miserable. Without his presence, the Flames have been bouncing around the place as if they just got out of detention, which is sort of true.
That doesn't mean that they're this good. They're getting a career year out of Curtis Glencross, who just happens to be out of contract after the year. Funny how that works, no?

Goalie Mikka Kiprusoff seemingly always gets hot this time of year, before the amount of starts he's burdened with crushes his will to live in the last two months of the season.

Such is the case this year.
But there are genuine strengths. Legendary badass Jarome Iginla started the year with only two goals in 15 games, and there were whispers the miles were catching up or that he wanted out. He's racked up 25 in the 50 games since, and those whispers have obviously ceased.

There's no opponent I enjoy watching more than Iggy. The release on his shot still defies physics and logic, and he's just as likely to bury you with a hit or with a punch in a fight. Add to it that every story you hear paints him as just about the nicest guy in the world, and you can't help but root for him.
This defensive unit is also pretty impressive. One through six are big, and most of them are tough. Robyn Regehr, while having all the hands and touch of a dead elephant, is a beast in his own zone and has bus-tossed Hawks forwards in the three games this year. Mark Giordano is also having a nice year, and most expensive Jay Bouwmeester has been ok even.
The plan that saw the Wild off won't work as well here. The Flames defense is built to grind away on the boards, so chipping in past the defense and trying to outwork them isn't going to work.

The Hawks need to use their speed instead to try and find room in the middle and carrying the puck in, and if the Flames cheat that way, then go around them and crash the net with shots and centering passes.

They are faster by a distance than the Flames, they just have to use it in a different way.
Copyright FREEL - NBC Local Media