Single game tickets went on sale for the Chicago Blackhawks' regular season last week. I know not everyone can afford to go to every single game they want. And the ones you do might be sold out with an outrageous secondary market.

So how can you get around this? Let's see:
Do not waste money on the Training Camp Festival. While it is cheaper and you do get to watch a practice, that charm will be wasted as soon as you see how much some weirdos get into it. Believe me, there's nothing that will creep you out more than watching adults go nuts for a goal scored during a practice. The five bucks would be better spent on a 40oz. of Icehouse.

Ditto preseason games. Again, they're cheaper and it's an actual live hockey game. I get that. However, it's filled with guys wearing #59 who you'll never see again, combined with a crowd that never goes to a hockey game and thus isn't paying attention. If part of the attraction for you is the Blackhawks atmosphere, then stay home and catch these on TV. It's better for the scouting anyway, when you can find the next Ben Smith and look like a real genius to your friends (note: feel free to come back and change this metaphor if Ben Smith does in fact not pan out).

During the regular season, throw out the games against Detroit if you've only got the cash for a few games. They're no fun, the bloodlust runs far too high, and you have to deal with Wings fans who keep waving four fingers in your face before asking if you can get their dad/brother/themselves a job. They're not worth the time, which is why a lot of season ticket holders punt these for cash. Isn't it strange how Red Wings fans always bemoan that they can't sell out Joe Louis Arena because of the economny, yet they're so eager to buy secondary market tickets here? It doesn't add up.

Forget the Vancouver games too, as those will be going for federal stimulus prices.

So who do you go see? Well, it's best to try and pick a team that you think we'll be better than most. The New York Islanders come in Dec. 2, and they have a bevy of young talent. Are they a playoff team? No. But they'll be better than they've been. John Tavares and Kyle Okposo are two of the most exciting young players around. And those throwback uniforms are the tops. You'll find tickets for this available and cheaper than most nights. And it's a Friday night. Double trouble.

However, for the most part, you want to avoid Friday and Saturday night games. These tend to draw out a much heavier "glitterati" crowd, and the atmosphere suffers. Unless you're into frat boys pounding beers they snuck in with them and yelling something that maybe sort of sounds like "Toews!", or yuppie women trying to find another mai tai while asking where the players go after the game. They're not a true hockey fan's scene. Stick to Sunday nights or during the week.

Catch one of the Kings games. Los Angeles might be the best team in the West this year, or competing for it. However, there's still this notion among the hockey stupid that no team from a warm weather place can be good. So you can nab tickets to these games for a cheaper rate than you probably should. And they're going back to the silver and black, which helps everyone.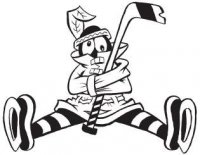 Sam Fels is the proprietor of The Committed Indian, an unofficial program for the Blackhawks. You may have seen him hocking the magazine outside the United Center at Gate 3. The program is also available for purchase online. Fels is a lifelong 'Hawks fan and he also writes for Second City Hockey .