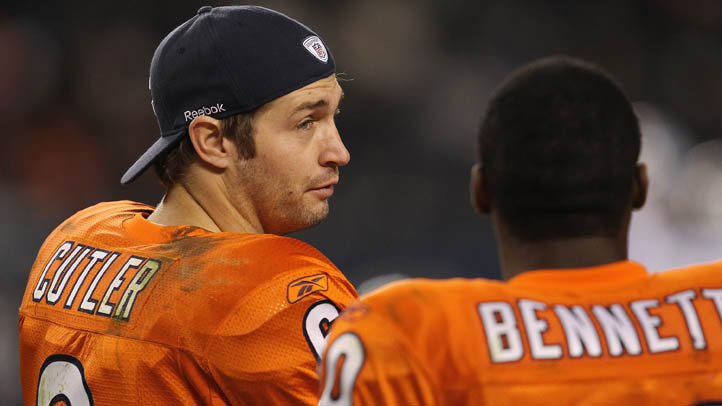 Earl Bennett's footwear has been in the spotlight this week. Last week, he was fined $5,000 for wearing orange shoes in the Bears win over Philly.

Jay Cutler, who was happy to have Bennett and his can't-miss hands back, offered to pay the fine. Bennett wore the shoes again on Sunday and is expecting another fine, which will likely be doubled. Cutler is on the hook for that one, too.

"He asked me before the game "Yea or nay?" I was like 'Yeah, can't back out now.' This game took a little bit of a check out of my wallet," Cutler said after the game.

But it won't just be Bennett's shoes that catch the eye of the league if Cutler continues to pay Bennett's fines. The Chicago Tribune reports that the league said Cutler can't pay the fine.
In an email to the Tribune, NFL spokesman Greg Aiello said "it is not permitted" for one player to pay for another's fine.
Fines are deducted directly from the players paychecks, so it's true that Cutler can't actually pay for Bennett's fine. However, it's hard for the NFL to police any transactions between players on their own. If Cutler and Bennett keep talking and tweeting about the fines, though, that's may cause the NFL to look into their comments.
Cutler said that the orange shoes "should be retired," but it's hard to ignore Bennett's results while wearing them. In two games after coming back from injury, he has 11 catches for 176 yards. In the win over the Lions, he went six for six, catching every ball thrown his way. The Bears should let the shoes become a distraction, but in the words of Crash Davis, you have to respect a streak.
Copyright FREEL - NBC Local Media