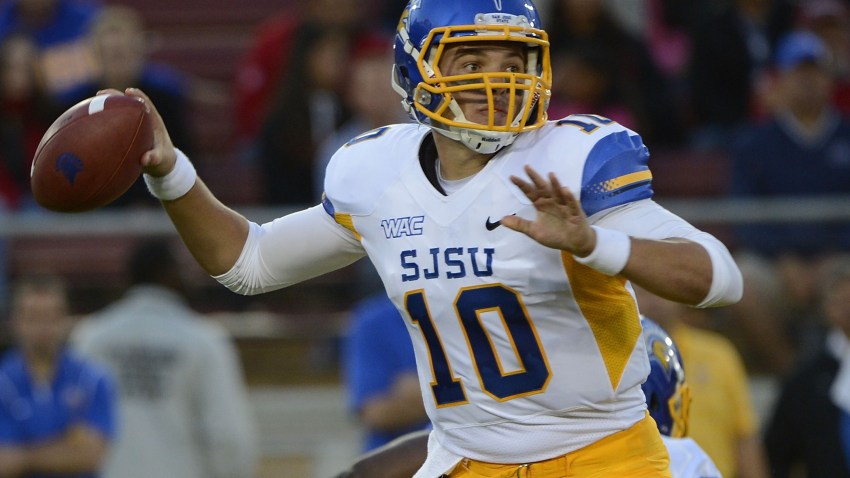 With the Chicago Bears' training camp in Bourbonnais looming just around the corner, Grizzly Detail is taking a look at some of the new players donning jerseys this season, and today we stick with the offensive side of things as we take a look at rookie quarterback David Fales.
The Details:
Fales is a guy that wasn't listed in the top tier of quarterbacks in the 2014 draft, only being drafted in the sixth round by the Bears, but he has some really solid numbers that rivaled those of players like Blake Bortles and Teddy Bridgewater. He completed 64.1% of his passes in 2013, throwing for 4189 yards and 33 touchdowns on the season for San Jose State. That total, combined with the 4193 yards he had in 2012, made him one of only two quarterbacks in the NCAA to throw for over 4000 yards in consecutive seasons, joining Derek Carr out of Fresno State in that category.
What the Bears Hope He Will Bring:
The team has been insistent that Jordan Palmer is the back-up quarterback as training camp nears, but Fales is looked at as the guy who will likely be backing up Jay Cutler long-term. He has a ton of speed on his throws, and even though he doesn't throw the deep ball like Cutler can, he has tremendous timing on his tosses, a la Josh McCown. That is the essence of what Marc Trestman and the coaching staff want: a confident quarterback with great timing and one that gets rid of the ball quickly, and when you add in his outstanding work ethic, you have a player that this coaching staff feels that they can mold.
Our Take:
If we had our way, Fales would be the back-up and beat out Palmer and Jimmy Clausen for the position. He has a ton of attributes that really impressed us during his college days, with his well-timed throws and ability to motivate his teammates often shining through when he was on the field. The Bears aren't a team that's lacking in leadership, but it's good to see a player that can seize the moment and be that guy when necessary.
One thing that we would like to see Fales work on is his mobility in the pocket. He doesn't have the quickest feet, and his internal clock seems to run a tick slower than it should. The Bears' offensive line is very good, but an NFL quarterback still has to be able to survey the field, digest the information, and make the throw at a much faster rate than they do in the Mountain West Conference.
Even with that in mind though, Fales still has the potential to be a very solid NFL quarterback. He doesn't have superstar upside, but then again, what quarterbacks do? He is just like McCown except younger, and considering Trestman's success in working with the wily veteran, he should be able to work wonders with this youngster.