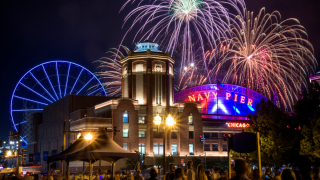 For the first time, Chicago's Navy Pier will extend its weekend fireworks displays past Labor Day and into the fall.
Two special fireworks shows will take place at 9:30 p.m. on Saturday, Sept. 11, and Saturday, Sept. 18, visible from across Navy Pier.
The extension is part of the iconic attraction's free fall series, which includes weekly outdoor movies held every Wednesday in September, Chi-Soul Fest on Sept. 10 and Sept. 11, a free outdoor screening event of "Othello: The Remix," and Pier Pumpkin Lights.
Halloween Family Fun Days returns on Saturdays in October beginning Oct. 9 with costume contests, scavenger hunts, movies and trivia contests. Oct. 30 marks the Halloween month's grand finale at Navy Pier with on-site trick-or-treating, family and dog-friendly costume contests, and arts and crafts.
"Thanks to philanthropic support and backing of the nonprofit organization's mission, Navy Pier was able to add several new programs to this year's fall programming schedule," event organizers said in a statement, "allowing the institution to deliver on its commitment to providing the Chicagoland community and guests access to free, year-round arts and cultural programs."
The pier closed its doors last September to "limit the financial burden and impact of the ongoing coronavirus pandemic on the organization" and reopened this past spring.
It announced its full reopening at the beginning of summer for Memorial Day weekend and its first fireworks display back on May 1, dedicated to healthcare workers and frontline workers.