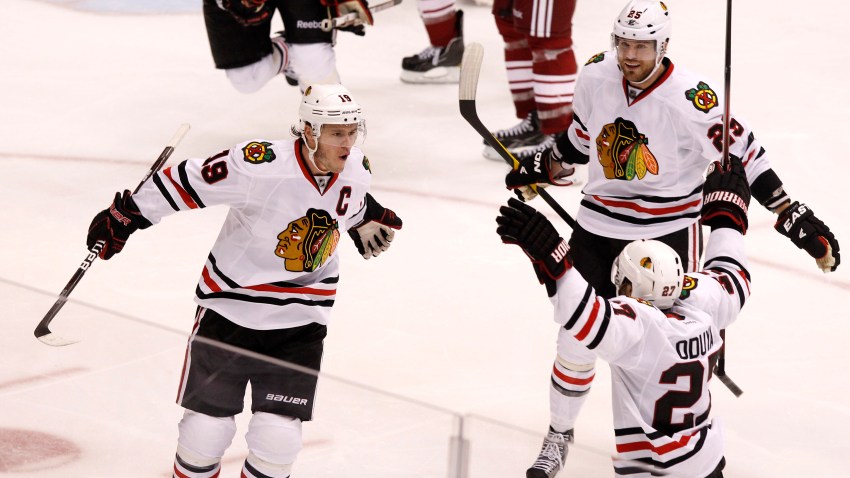 Many teams would have been satisfied with 45 wins to cap a playoff berth in 2012, but the Chicago Blackhawks expect more than a typical NHL franchise.

With a dedicated fan base and two of the sports most enigmatic stars in Jonathan Toews and Patrick Kane, both the Blackhawks and their fans expect deep playoff runs each season. Even though there have been a host of changes to the Hawks since their Stanley Cup Championship season of 2010, this is still a dangerous team that could challenge for another Stanley Cup if fortune breaks their way.
Last Year: The Chicago Blackhawks offense was more than solid in 2012, ranking fifth in the league with an impressive 241 goals. But don't let that number get you too excited. In 2011, the team tallied 252 times. In 2010, they lit the lamp 262 times. With a lack of secondary scoring and inconsistent defense, the Hawks weren't as dominant as they could have been at times. Make no mistake, while the Hawks offense is a machine, if the first two lines are shut down, the team runs into issues on both sides of the ice. Although Corey Crawford was far from fantastic against the Phoenix Coyotes in the playoffs last season, had Kane and Marian Hossa actually managed to score a goal during the series, the Hawks could have been in a much different situation.
Question Marks:
The powerplay. With skilled forwards the likes of
Toews, Kane, Hossa, Patrick Sharp and two talented blueliners in Duncan Keith and Brent Seabrook, the Hawks should have no problem with the man advantage. In 2012 however, Chicago's powerplay was ranked higher than only four teams in the league. Was it an aberration or does this team need another piece to get their powerplay going? After scoring 21 goals last season, can Viktor Stalberg continue to produce top-six numbers? Can Marcus Kruger contribute more than the 26 points he did last season? Most importantly, can Kane be the sniper the team thought he was going to be when he was drafted in 2007? Far from a bust, Kane still has yet to be top 10 goal scorer in this league.
Wishful Thinking: That Crawford or Ray Emery is ready to be "the man" between the pipes for the Hawks. Head coach Joel Quenneville will have to give each a trial by fire before he can ride the hot glove going into the playoffs.
Prediction: While the Hawks have a plethora of question marks, they have more depth than the other teams in their division, especially in net. They also have youth and don't have to worry about replacing Nicklas Lidstrom, like the Detroit Red Wings do. If their goaltending situation clears its head early in the season and the bottom two lines can chip in some offense, the Blackhawks won't have any repeat disappointments against any howlin' Coyotes.