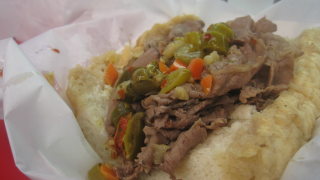 Memorial Day may be the more well-known holiday in May, but there's a much tastier holiday just a few days before.
Friday is National Italian Beef Day, and Chicago's iconic Italian Beef restaurant Buona will be giving away free, slow-roasted Italian beef sandwiches May 27-30, the restaurant says, in order to celebrate.
In order to get the free sandwich, customers will have to download the MyBuona App.
According to the restaurant, non-app users can download the MyBuona app to get a free beef in their rewards wallet within 24 hours, if they download by Sunday, May 30. (limit 1 per member). Existing app users can get any of the beefs for free with up to two toppings.
Buona opened its first restaurant in 1981 and continues to be family-owned and operated, by third generation Buonavolantos family members.