Numerous calls to 911 after a stabbing at Frankie's Blue Room over the weekend depict a loud, frantic scene with callers pleading for an ambulance.
"Oh my God, somebody got stabbed," one caller tells a 911 dispatcher in one of the recordings released Tuesday.
"What's going on?" the dispatcher presses.
"I don't know," the caller responded. "Somebody got pushed into somebody and there's blood everywhere. Some guy is holding his rib. I think he's like bleeding out right now."
"OK. Is there someone with him?" the dispatcher inquired.
"There's people, yeah," said the caller. "There's people all around him but we need somebody here."
The stabbing victim, 24-year-old Shaun Wild, a second-grade teacher at Spring Brook Elementary School, ultimately died from his wounds. A North Central College football player, Willie Hayes, was also injured in the melee and was released from the hospital on Monday.
Daniel Olaska, of Brown Deer, Wisc., is being held on $3 million bail in connection with the Saturday incident.
In the wake of the stabbing, a Naperville councilman on Tuesday tried to get his colleagues to revisit a recently-passed ordinance modifying the city's liquor licensing. He was shot down.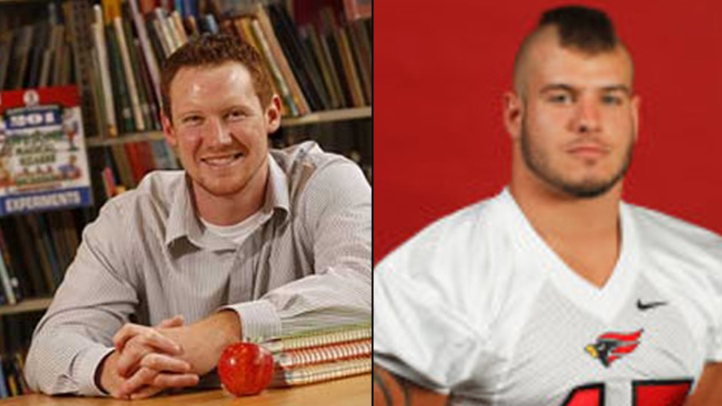 Shaun Wild (L) and Willie Hayes (R)
Published at 5:51 PM CST on Feb 8, 2012 | Updated at 5:54 PM CST on Feb 8, 2012