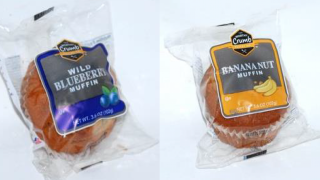 Muffins sold at major U.S. retailers including Costco, Walmart and 7-Eleven have been recalled due to worries of potential Listeria contamination, according to the Food and Drug Administration.
Give and Go Prepared Foods, the company that manufacturers the muffins, announced a voluntary recall Monday, explaining the affected items are sold under several brands including Uncle Wally's, The Worthy Crumb and Freshness Guaranteed.
More information about the recall is available here.