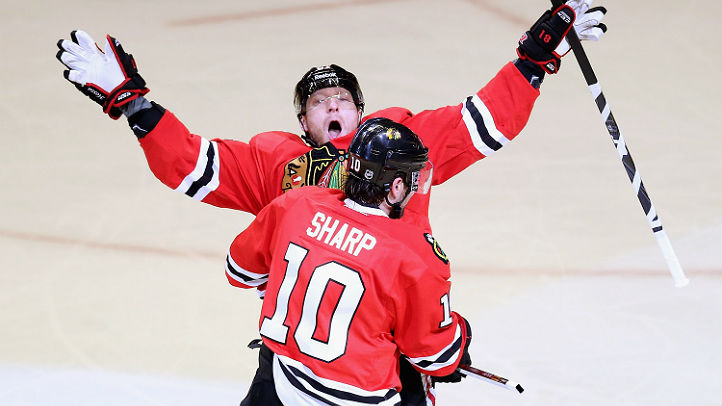 Even though Chicago Blackhawks head coach Joel Quenneville said that winger Marian Hossa would "very likely" be in the lineup for the Hawks in Game 4, the forward missed the team's morning skate Wednesday morning in Boston.
Despite his absence, the Hawks had a bunch of new line combinations at practice:
Bickell - Toews - Kane
Sharp - Handzus - Mayers
Saad - Shaw - Stalberg
Kruger - Bolland - Frolik
There are a couple of interesting things about this lineup. Obviously, the top line reuniting Jonathan Toews and Patrick Kane is a good sign that Quenneville recognizes the pair seem way more comfortable with each other lately, but it also means that he is expecting them to beef up an anemic offensive attack in similar fashion to what they did against the Detroit Red Wings in the second round.
Jamal Mayers' presence on the second line is a bit of a head-scratcher, but it would lend credence to the thought that Hossa will play Wednesday. Mayers has served as a placeholder before in the lineup when other players have missed morning skates, and since he hasn't played in quite a long time (April 27th against the St. Louis Blues, to be exact), one would assume his presence is just as a fill-in.
Also intriguing is that Quenneville opted to bring back the third line that saw a ton of explosiveness earlier in these playoffs. The three youngsters, notably Brandon Saad, seemed to play with a ton of energy when they were brought together upon Bryan Bickell's promotion to the top line, and they could provide a spark to a team that looked downtrodden on Monday.
Obviously, we won't know anything for sure until just before the puck drops in terms of Hossa's status, but the odds are that these practice lines are the ones that Quenneville will stick with as the game starts. They've had success before, but against a formidable foe, they will be in for a big challenge.
UPDATE: 12:05pm
Quenneville expects Hossa to play tonight, according to his comments following the morning skate.