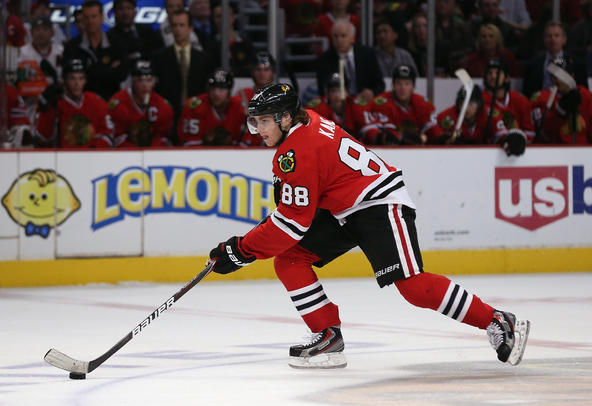 The Chicago Blackhawks struggled mightily during a lackluster third period on Monday night, but they were able to fend off a late charge by the Nashville Predators and win 3-2 in a shootout at the United Center.

Brandon Saad and Patrick Kane scored the two goals for the Blackhawks, and the Predators were helped immeasurably by the 38 saves they got from Pekka Rinne in the defeat.

We'll have more reaction this morning to this game, but for now, here were Madhouse Enforcer's Three Stars of the game.

Third Star: Patrick Kane

Kane scored his 19th goal of the season for the Blackhawks on Monday night. He has been a huge boost to a team still dealing with the absences of Marian Hossa and Patrick Sharp, but it was the way he scored his goal that was particularly riveting.

With the Hawks and Predators in a 4-on-4 battle because of concurrent penalties, Kane and Jonathan Toews were rushing up the ice on a 2-on-1. Rather than looking back and forth between his teammate and the net, Kane kept his gaze fixed on Toews until he got to the face-off dot to Rinne's left, and he fired a gorgeous wrister past the Nashville goalie to give the Hawks a 2-0 lead.
It was further demonstration of how in command of his skills came in, and it's yet another reminder that he has finally achieved truly elite status in this league.

Second Star: Michal Rozsival

Kane's spectacular goal would've gotten him a higher spot on this list had it not been for the surprising effort turned in by Rozsival. He was even in +/- despite playing nearly 22 minutes in the contest, and he doled out three hits as well.
The highlight for him, however, was his excellent top-shelf goal past Rinne in the shootout, which gave Corey Crawford the boost he needed to win the game for Chicago on the next play.

First Star: Bryan Bickell

Bickell has gotten a bum rap at times during his Blackhawks career, but he continued his excellent 2013 campaign with a great performance on Monday night. He was playing an aggressive style of hockey throughout, attacking the net to the tune of five shots on goal and was hitting every Predator in sight, racking up four hits on the night.

Bickell was at his best in the third period. With the Hawks scuffling terribly in giving up two goals and going nearly a half a period without a shot on net, Bickell came out and immediately got to work with about six minutes left. He generated several quality scoring chances, disrupted several Nashville clearing attempts, and seemed to single handedly give the Blackhawks the lift they needed to not allow the Predators to take the lead late.

There may not be a statistical reward for what Bickell did for the Hawks, but for those who value intangible contributions, his effort was second to none.