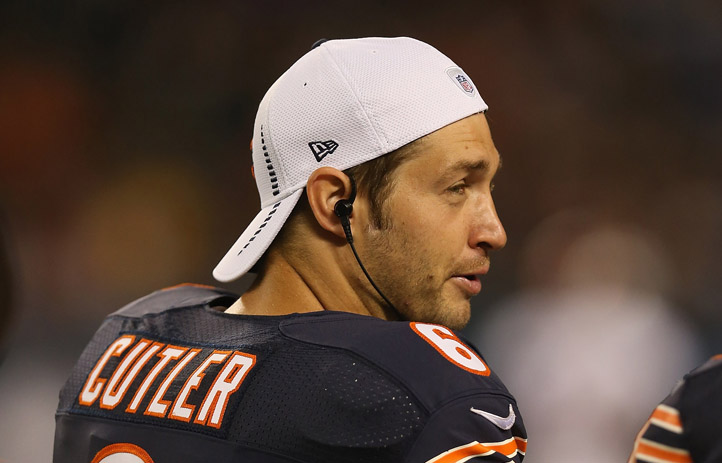 As the Bears prepare to play their third of five scheduled prime-time games Monday Night against Detroit, once again all critical eyes will be on Quarterback Jay Cutler.
When the Bears played before a prime time audience came when they faced Green Bay on Thursday night football. During that game, Cutler shoved offensive lineman J'Marcus Webb.
Then during a Week 4 Monday Night Football game in Dallas, Cutler gave Bears offensive coordinator Mike Tice the cold shoulder on the sideline.
So it comes as no surprise a national football audience will be watching Cutler Monday Night against Detroit.
For evidence: visiting media met Bears players Wednesday at Halas Hall, and one of the last questions posed to running back Matt Forte focused on Jay Cutler's demeanor.
Reporter: "Matt there's a perception out there that Jay is not the happiest human being in the world, you see him every day you play with him, you're on the field with him. True, not true?"
Forte could only laugh.
"Another question about Jay and his not being happy!" Forte remarked, "You guys just see him out here playing football, we see him behind the scenes so perception to you guys I guess is reality and to everyone who doesn't see him behind the scenes."
Still Forte tried to explain the relationship his teammates have with Cutler.
"Jay is who he is, during the game he's going to make faces; he's not going to be 100% happy the entire game. I'm not (happy) the whole game, (not) going to be happy every time. He just gets analyzed a little bit too much."
For his part, Cutler told his ESPN Chicago radio audience he is not aware of the cameras on him at all times, and will not even start worrying about that.
Cutler's coach Lovie Smith is a bit more realistic.
"I think when you play for the Chicago Bears and you're in Chicago you just have to assume a camera is on you at all times" Lovie Smith said Wednesday. "That's my message to the football team ... you play in chicago cameras are on you always, it goes with the territory and no more than that."