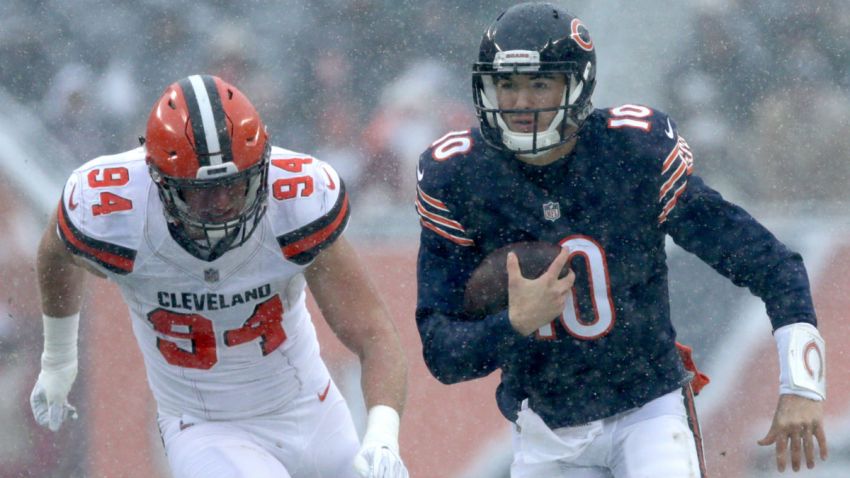 Chicago Bears rookie quarterback Mitchell Trubisky earned his fourth win this season with a 20-3 romp over the Cleveland Browns, and he made some history along the way.
Thanks to his 193 yards of passing on a snowy day on the lakefront, Trubisky now has 2015 passing yards in 11 starts with the Bears. That number is now the all-time record for passing yards by a Bears rookie, eclipsing the 1869 yards that Kyle Orton threw for in 2005.
Trubisky is one of only five Bears rookie quarterbacks to throw for more than a thousand yards in a season, joining a list that includes Orton and Super Bowl XX winning quarterback Jim McMahon.
Cleveland Browns vs. Chicago Bears: Week 16 in Photos
Even as he accomplished something that no other Bears quarterback has ever done, he didn't seem all that impressed with his own achievement.
"It's not really about individual stats," he said after the game. "It's about growth and development and getting better each day, and I wouldn't be able to have that without my teammates. I don't feel like I did anything special. I'm trying to get better and trying to learn from my mistakes."
The Bears' rookie accomplished the feat in four fewer games than Orton's 15, and he has one more chance to add to that total when the Bears wrap up the season against the Minnesota Vikings next Sunday.