Minnesota Lynx players will not wear T-shirts supporting the Black Lives Matter movement ahead of Tuesday's game in San Antonio after four off-duty police officers walked away from security jobs at a Lynx game over the weekend because of the garb.
The shirts worn before Saturday's game in Minneapolis against the Dallas Wings listed the names of two black men fatally shot by police in Minnesota and Louisiana. The shirts also showed the Dallas police shield above the phrase "Black Lives Matter."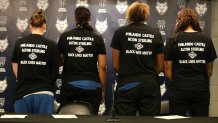 Five officers in Dallas were fatally shot last Thursday by a sniper during a protest over the two slayings.
Lynx spokeswoman Ashley Carlson says the players would not be wearing the BLM clothing in San Antonio.
"The Lynx organization was made aware about the concerns of the off duty Minneapolis police officers," the team said. "While our players message mourned the loss of life due to last week's shootings, we respect the right of those individual officers to express their own beliefs in their own way. ... We continue to urge a constructive discussion about the issues raised by these tragedies."
In a statement Tuesday, Minneapolis Police Chief Janee Harteau said while the officers were working security on behalf of the Lynx, she expects all officers "to adhere to our core values and to honor their oath of office" when wearing a Minneapolis police uniform.
"Walking off the job and defaulting on their contractual obligation to provide a service to the Lynx does not conform to the expectations held by the public for the uniform these officers wear," Harteau said.
Minneapolis Police Federation President Bob Kroll told the Minneapolis Star-Tribune he commends the officers. He says they took their names off a list of officers to work future games.
In a post on her Twitter and Facebook accounts Tuesday, Minneapolis Mayor Betsy Hodges called Kroll's comments "jackass remarks."
"Let me be clear: labor leadership inherently does not speak on behalf of management. Bob Kroll sure as hell doesn't speak for me about the Lynx or about anything else," Hodges wrote.
On Sunday, the New York Liberty wore similar black T-shirts addressing the recent shootings.
"We do need people to stand up and understand and express that black lives are just as important as any other lives in America, and right now that's not being seen," Liberty guard Tanisha Wright said.
New York's Swin Cash had stronger words.
"I think it's a shame that we keep seeing people that want to make this movement as something that's violent," said Cash, who repeatedly hit the lectern with her fist and whose voice cracked while speaking. "Five cops gave their lives up trying to protect a peaceful movement. And in this country, I do believe that you can assemble peacefully and protest against injustice. So until the system transforms, we cannot sit here and act like there is not a problem here in America."
Many athletes have expressed frustration and anger over the recent police shootings, including NBA players Damian Lillard and Carmelo Anthony and Brittney Griner of the Phoenix Mercury.
LeBron James and other basketball stars made news in 2014 when they wore T-shirts reading "I can't breathe" to protest the death of Eric Garner at the hands of police in New York City and five members of the St. Louis Rams made the "Hands up. Don't Shoot!" gesture before a game in reference to the fatal shooting of Michael Brown by police in Ferguson, Missouri.
Copyright AP - Associated Press