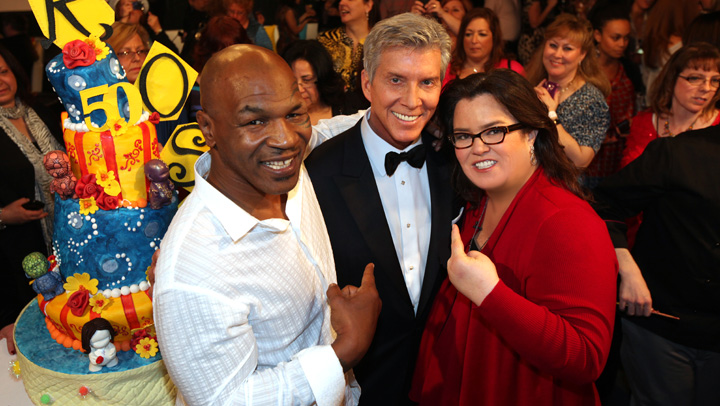 So Rosie O'Donnell and Mike Tyson were hanging out at Studio Paris last night -- OK, you'd be forgiven if that sounds like a scenario that only an imaginative gossip hound could dream up.

But that was the scene Monday night at Paris Club's upstairs lounge, as O'Donnell celebrated her 50th birthday with the former heavyweight champ and his family, her fiancé Michelle Rounds, assorted staff from the show and 50 women turning 50 who were also invited to the bash.

Rosie still found time for good cheer, despite recent news that her talk show on the OWN network was being canceled. The last show was taped on Tuesday and will air March 30.

O'Donnell took to the mic and addressed the show's demise, and encouraged the staff to keep a positive outlook and to have a great time despite the bad news.

Our spies tell us Rosie also jumped on stage with '80s cover band Sixteen Candles and took over the drum set to the song "Jesse's Girl." Who knew the girl could play?

Tyson had taped an episode of the show earlier in the day and changed his flight so he could attend with his wife, Kiki, and 3-year-old daughter and niece in tow.

Tyson rolled out the 3-foot birthday cake while dancing to 50 Cent's "In Da Club" and leading the crowd in a rendition of Happy Birthday.