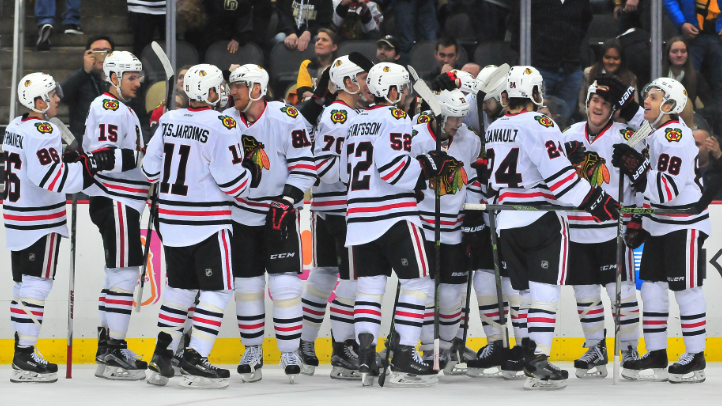 After their 3-2 victory over the Pittsburgh Penguins on Tuesday night, the Chicago Blackhawks hit the halfway point of their season, and despite plenty of obstacles and handwringing over their roster construction, they're still well-positioned to make another run at a Stanley Cup title.
With that in mind, we're taking a look at where the team stands at the halfway mark of the 2015-16 season, and examining what they need to do in order to get their fourth championship in seven seasons.
To start that process, we're going to take a look at the three biggest surprises for the team so far this season.
Artemi Panarin's Quick Ascent to Stardom
There was plenty of excitement when the Blackhawks signed Panarin to a contract last year, but no one could have predicted just how rapidly the young winger would adjust to the American game.
Forming one of the NHL's best lines with Artem Anisimov and Patrick Kane, Panarin has scored 15 goals and dished out 23 assists in his first 42 NHL games, and he is already a big favorite to take home the Calder Trophy when all is said and done this year.
Sure, his possession numbers aren't great, and there are times when he can be too passive with the puck, but with his quick progression and his chemistry with Kane, Panarin is a star in the making for the Blackhawks, and he's showing no signs of slowing down.
Brent Seabrook's Offensive Explosion
When Seabrook signed a lucrative contract extension before the season got underway, there was plenty of hand-wringing nationally and a lot of questions locally: is a guy who isn't known as a premier offensive defenseman really worth that type of money?
Even with the pressure of trying to live up to a contract and the difficulty in playing for a chunk of time without Duncan Keith to alleviate pressure on the defensive side of the ice, Seabrook has thrived, and his offensive numbers are all up to boot. He's on pace to set new career highs in both goals and assists this season, and he's been instrumental in keeping the team's offense afloat this year.
Whether he can continue to put up these type of numbers will remain to be seen, but one thing is for certain: Seabrook has kicked his offensive game into a gear that hasn't been seen in recent seasons, and his nose for the puck has added a new wrinkle to the Hawks' offense.
Power Play Settling Into a Rhythm
Blackhawks fans have likely become used to hearing this refrain during the team's current run of success:
"With all of that talent, how are they so bad on the power play?"
When looking at the numbers, this question holds validity. Over the past three seasons, the Blackhawks have finished in the bottom half of the league in power play percentage twice, and they ranked 11th in the league in the 2013-14 season.
This season, however, everything has changed. The team currently ranks third in the league in power play percentage, converting on 22.6 percent of their opportunities on the man-advantage. Patrick Kane has been a huge reason for that success, as the winger has racked up 12 power play goals (tied for the league lead) and is also at the top of the heap in power play points this season, with 21 on the year.
Panarin, Seabrook, and Duncan Keith have all made a big impact on the man-advantage as well, notching double-digit point totals on the power play, and the change has been evident in this team.
They move the puck better than they have in previous seasons, they get more quality shots on net, and they have seemingly found a formula that can generate pressure consistently.
If they can keep this kind of production up as the season moves along, it bodes well for their chances of bringing home another championship.