Authorities were at the scene of a homicide at a Michigan home last May for more than an hour before they realized one of the two people shot was still alive, according to a report.

Martin Duram, 45, was found dead in a home in Newaygo County near Sand Lake on May 13, 2015, according NBC affiliate WOOD TV8. His wife Glenna Duram, 47, was also seriously wounded, but she was taken to a Grand Rapids hospital and survived the incident.

Glenna Duram was still and quiet near her dead husband in the bedroom of their single-story home and multiple authorities at the scene believed she was dead, MLive reported Thursday citing police documents obtained through a Freedom of Information Act request. Her pulse was not checked until more than an hour after she was found.
When they did eventually touch her, she opened her eyes and asked what was happening in confusion, according to MLive. Michigan State Police did not immediately return NBC Chicago's request for comment.

Martin Duram was shot five times, with three of those shots in close range to the chest and the other two from a distance in the back, WOOD TV8 reported. Paramedics found one gunshot wound behind Glenna Duram's right ear, though other details about her injuries were redacted in the reports given to MLive.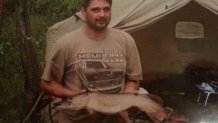 Police noted that a meal appeared to be interrupted in the kitchen, having observed a bowl of spaghetti as well as garlic toast, according to MLive. The couple's dog had been alone for hours or perhaps days. Feces was found in a pair of shoes.
Martin and Glenna Duram had been married for 12 years, WOOD TV8 reported. It is still unclear what happened at the home, however prosecutors told Wood TV8 the night of the discovery neighbors were not in any danger.
Martin Duram's oldest son Justin told NBC Chicago his father was in a car accident in 1995 that left him in a coma. Although he eventually woke up, he was left with life-lasting injuries.
"He had a bad leg that caused him to walk with a limp," Justin Duram said. "He had scar tissue build up in his throat a few years ago that caused him to cough until he would pass out. He could barely bend over to tie his shoes the last few years."
Despite his injuries, Justin Duram said his dad "was a great father and grandfather."