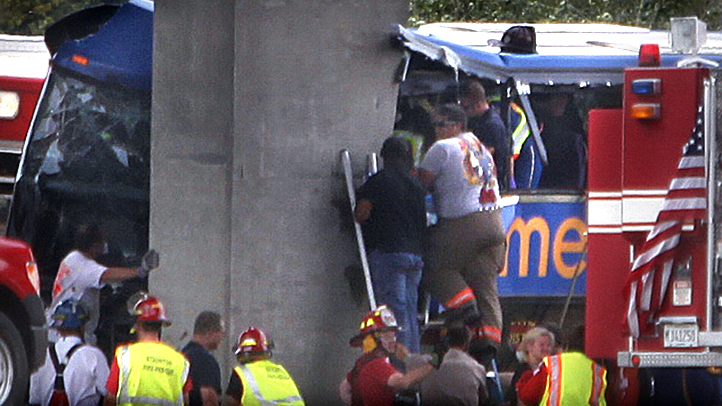 Authorities have released the name of the woman killed in Thursday's bus crash near Litchfield, Ill.
Aditi Avhad, 25, was pronounced dead on the scene. The Mumbai, India native was a student with a 4.0 GPA on a scholarship at the University of Missouri, studying for a master's degree in the school's health administration program.
"We have lost a wonderful, dear friend," said Nikhil Tindal, president of the university's Cultural Association of India, of which Avhad was a member. "Aditi was a girl who was always smiling and brought so much joy to us all."
Avhad was seated in the front row of the upper level of the bus. She was traveling with her parents to Columbia, Mo. when the bus crashed.
The investigation into the accident is not complete, but passengers on the bus and Illinois State Police believe a blown tire is to blame.
"The tire blew out, the front tire on the driver's side," said passenger Joe Kovco. "I heard it pop and then ran right through a stanchion underneath the overpass, a concrete stanchion, and then after that it was just chaos."

Kovco was injured in the crash, but not seriously.
"You figure at 65 mph, it would be hard to control a vehicle that big with a blown tire," said Illinois State Police Lt. Louis Kink.
An emergency room doctor happened to drive by the accident scene and stopped, helping with triage for the crash victims.
The bus is operated by the low-fare service Megabus. All the buses in the fleet undergo an inspection that includes tires every 10 days, Megabus spokeswoman Amanda Byers said, adding the bus involved in the crash passed a "full preventative maintenance check" within the past week.
There is no evidence of driver failure, nor other known contributing factors, Kink said.
A total of 80 people were on the bus -- 78 passengers, the driver, and a second driver riding along. Forty-seven people were taken to area hospitals, all of whom are expected to survive, Kirk said.
Megabus USA LLC has earned a satisfactory rating from the Federal Motor Carrier Safety Administration. There is no higher rating.
Megabus drivers are also required to take nine hours off between driving duties, and go through extensive classroom and behind-the-wheel training, the company said.
Copyright AP - Associated Press