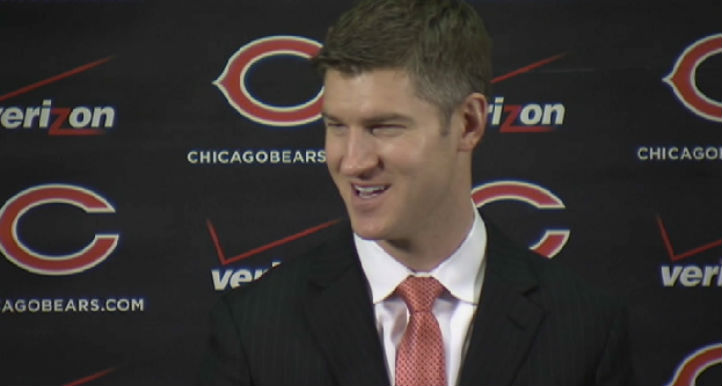 The Chicago Bears introduced their new general manager Ryan Pace on Friday morning, and from the moment he hit the podium, it was clear that the team has decided to go in an ambitious new direction.
Whether that direction is one that will lead back to a championship or one that will end up leading them back to the NFC North basement remains to be seen, but if there's one thing we learned, it's that Halas Hall will be functioning differently with Pace at the helm.
Here are three other things that we learned from Pace at Friday's press conference.
Personality Will Be a Deciding Factor in a Coaching Hire
If there's one thing that Bears fans seem to be united in calling for, it's a head coach that is more of a vocal, fiery personality. While that doesn't necessarily make for a quality coach, Pace does seem to believe that a coach with a strong personality could be a good thing for a team like the Bears.
"I'm influenced by Sean Payton a little bit because I saw what he brought," he said. "I think about qualities like – Sean came from Parcells, so discipline was important right off the bat. But Sean has a charisma, a confidence and an energy to him that's infectious. I think that's important, you know?"
There is a significant difference between a guy who just yells because he thinks it gets the most out of guys and a coach who uses the power of his personality to help get the job done. Pace seems to favor the latter, and that's a positive thing.
One Thing Will Remain Constant: Draft Emphasis
The Bears hired Phil Emery as the general manager because of his experience in scouting college players. While that hire didn't end up working out, Pace still feels that the draft is where good teams are separated from the rest of the pack.
"The recipe to winning Super Bowls is stringing successful drafts together again and again," he said. "We are not just collecting athletes. We are acquiring football players that fit the Chicago Bears. There will be a major emphasis on character, toughness, instincts, and intelligence."
When you look at teams like the Green Bay Packers, whose roster is comprised almost exclusively of players that they've drafted, and the New Orleans Saints, you see teams that have been built through the draft and augmented with free agent signings. The Bears have not embraced that model, and a big part of the reason why has been the consistently bad draft classes they've had. If Pace can turn that around, the Bears will be in good shape.
Is He Really in Charge?
Pace said all of the right things during the press conference about who was in charge of the football operation at Halas Hall.
"I feel really good that I'm empowered," he said. "That's why I'm here."
Weirdly though, Ted Phillips did make it a point to say that Pace "will report directly to me," which seems to contradict what the new G.M. said.
That is going to be something to keep an eye on. Pace has a ton of job security with a five-year contract, but one of the biggest downfalls for this team has been meddling from the higher-ups in the football operations. Phillips has not shown a propensity for smart football decisions, and so if he can't help himself and ends up meddling with Pace's system, the Bears could be in for more years of futility.