Doctors at two north suburban hospitals sent hundreds of letters to parents urging them to get their kids vaccinated against measles after the Centers for Disease Control and Prevention issued a warning of large outbreaks near major U.S. cities.
Doctors at Advocate Children's Hospital in Park Ridge and at NorthShore University HealthSystem said they were "proactively reaching out to parents whose children are not immunized for the measles." They called the initiative to immunize patients, particularly children, critical - as the country has already seen more measles cases in the first few months of 2019 than all of the previous year.
"For the past 20 years, it appeared that the measles had been eliminated," Advocate Children's Hospital said in a statement. "Unfortunately, the highly contagious childhood disease is back."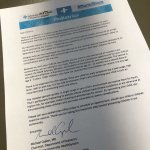 Between Jan. 1 and April 4, 465 individual cases of measles were confirmed across 19 states, the CDC said Monday, marking the second-greatest number of cases reported in the U.S. since the infection was eliminated in 2000.
The states that have reported cases include Arizona, California, Colorado, Connecticut, Florida, Georgia, Illinois, Indiana, Kentucky, Massachusetts, Michigan, Missouri, Nevada, New Hampshire, New Jersey, New York, Oregon, Texas and Washington, according to the CDC.
The CDC specifically warned of outbreaks in major metropolitan areas, including New York City and Detroit, Michigan, as well as Washington state and two counties in California.
New York City Mayor Bill de Blasio declared a public health emergency Tuesday amid a measles outbreak — the worst outbreak in the area since 1991. Officials say 285 cases have been confirmed in New York City since the beginning of the outbreak in October.
As of April 8, Michigan has seen 41 total measles cases statewide, according to the Michigan Department of Health and Human Services, in patients ranging from 8 months old to 63 years of age.
The outbreaks highlighted by the CDC are linked to travelers who brought measles back from other countries, including Israel, Ukraine, and the Philippines, where large outbreaks of the infection are occurring.
Health officials said the majority of people who got measles were unvaccinated, urging the public to get vaccinations, particularly before traveling internationally.
So far, Illinois has only seen seven confirmed measles cases, but doctors fear the numbers could skyrocket.
"In two weeks, it could be a hundred and that's where the problem is," said Dr. Michael Caplan with Northshore University Healthsystem. "If you have one index case in a couple, few weeks you could turn around and it could be a lot."
In Illinois, just 9 percent of schools have 100 percent of their students vaccinated, according to state data compiled by WBEZ radio. Dozens of schools in and around Chicago have below 90 percent of their student population vaccinated.
That's why doctors are pushing hard to educate about the disease and promote vaccinations.