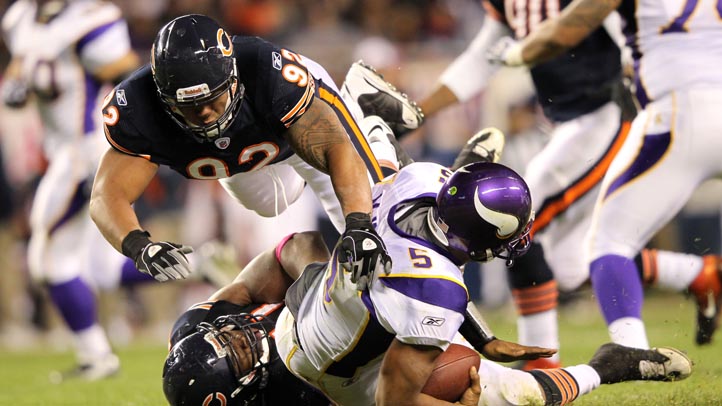 On June 22, 2011, I predicted Caleb Hanie would be the Bears starter. (Seriously, read this.)
"Caleb Hanie will end up as the starter. It's just a matter of time."
And now his evil plan has reached its apex. Jay Cutler's bum thumb sent him into a pain spiral so intense, his doctors shot him up with something powerful enough to make him crawl back to Kristin Cavallari. In his delirious state, he probably won't bother with a prenup. And Cutler's unlikely to come back this year.
But now, Donovan McNabb is on the market. And there's a significant number of people who think McNabb would look great in a Bears jersey. Those people are dumb.
Sure, McNabb grew up here. And yes, once upon a time, he was a quality quarterback. But as someone who drafted the guy over and over and over in fantasy leagues, I can tell you, he's an erratic mess. And that's when he was with the Eagles.
The Eagles let McNabb go to the Redskins. That's in their own division. Why would a team do that unless they were sure they were unloading the football equivalent of a dirty diaper?
And then the Redskins decided they'd be better off with Rex Grossman at quarterback. You remember Rex Grossman, right? An entire team decided that Rex Grossman (REX GROSSMAN) was a better QB option.
So McNabb packed his bags for Minnesota, where yet another coaching staff decided Christian Ponder was a better option.
Seriously, are there Bears fans who think we need a guy rated worse than Rex Grossman and Christian Ponder?
We all remember McNabb's glory days. (And the multiple times he puked on the field.) But he's always been an erratic passer. In a quick-strike Mike Martz offense, McNabb would only get the chance to fire interceptions at a slightly faster rate than in previous stops.
It's not like the Bears' weak receivers will help him out by snaring those wobbly ducks tumbling below their knees. Heck, the broad side of a barn called to say it's wide open and still waiting for McNabb to hit it.
If we want a legendary former Eagles, former Vikings quarterback, I think Randall Cunningham is available. Better yet, let's try to sign "QB EAGLES" from Tecmo Super Bowl. That guy was a beast.