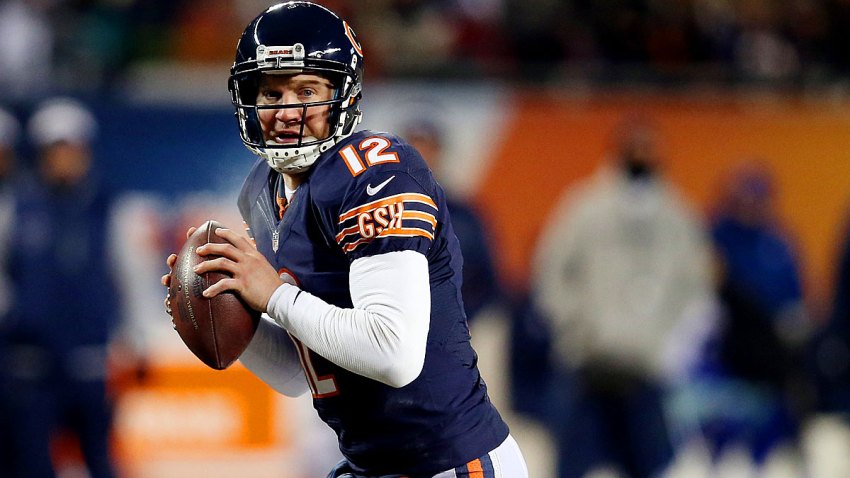 Any time a guy can complete 27 passes for 348 yards and four touchdowns in brutally cold and windy conditions, people should rightfully take notice, and in the case of Chicago Bears QB Josh McCown, a big somebody did notice.
As a reward for his performance, the NFL announced on Wednesday that McCown had been named one of their Players of the Week for his ridiculous outing against the Dallas Cowboys. McCown joined John Abraham of the Arizona Cardinals and Phil Dawson of the San Francisco 49'ers as NFC players of the week, with the NFL calling the performances of the three veterans "a time warp."
Perhaps just as much as his throws on that frigid evening, it was McCown's willingness to take a hit to make a play on his second quarter touchdown run that really stood out. On the third down play, McCown pulled the ball down and made a beeline for the end zone, and at about the one yard line, he jumped up in the air to get the ball to the goal line, and absorbed a hit from Dallas LB Sean Lee, holding onto the ball and perhaps putting his biggest stamp on the game with that play.
"We always say to our quarterbacks that we want you to get down, but every once in a while a quarterback has got to do what he's got to do," head coach Marc Trestman said of that play. "It was an excellent run."
In seven games for the Bears this season, McCown has a completion percentage of 66.8%, the highest of his career. He has also thrown for 13 touchdowns and just one interception, and his quarterback rating of 109.8 is also the highest of his career.