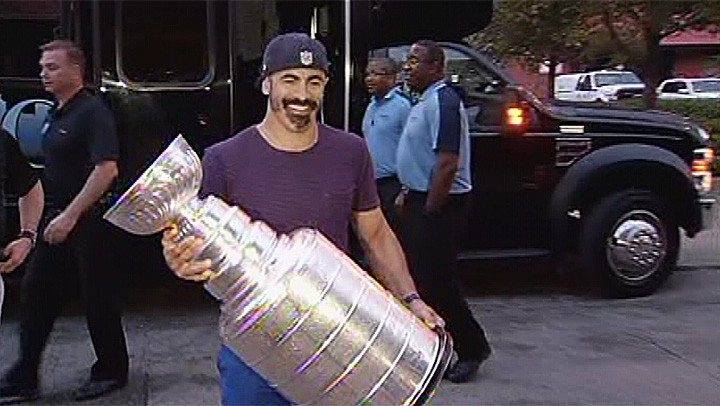 With their players scattered to their hometowns and the Stanley Cup making its way around the world to spend a day with each of them, the Chicago Blackhawks' summer has finally begun in earnest.
One open question regarding the team, however, is what is going to become of veteran enforcer Jamal Mayers, who is currently a free agent.
The thinking after the Hawks won the championship in late June was that Mayers was going to retire as a champion, but that may not be the case anymore, according to the Chicago Tribune's Chris Kuc:
"On Tuesday, Mayers' agent, Pat Brisson, said in an email to the Tribune that the unrestricted free agent forward who won his first Cup when the Hawks claimed their second in four seasons, "would like to return. We are optimistic we will have a team come September."

"Though Mayers lives in Chicago, it's not likely he would return for a third season with the Hawks. Mayers was a healthy scratch throughout much of the regular season and all of the playoffs and general manager Stan Bowman said on Friday he doesn't anticipate any more moves that would impact the roster for the 2013-14 season. The Hawks currently have 22 players under contract for '13-14 and are about $1.2 million under the salary cap."
Obviously, there was little doubt that Mayers would be leaving the team after finding his way into reserve duty (while also filling in for Marian Hossa, among others, during morning skates) during the team's playoff run. His departure will mean more leash for guys like Daniel Carcillo and Brandon Bollig, who will need to replace Mayers' toughness as well as his occasional scoring touch.
As for Mayers himself, he will find at least a few teams who could conceivably use his blend of face-off skill, grit, and scoring touch. A team like the Phoenix Coyotes or the Carolina Hurricanes could conceivably have openings in their bottom six forward groups, and a young team like the New York Islanders could use his veteran leadership as they look to take their game to the next level.