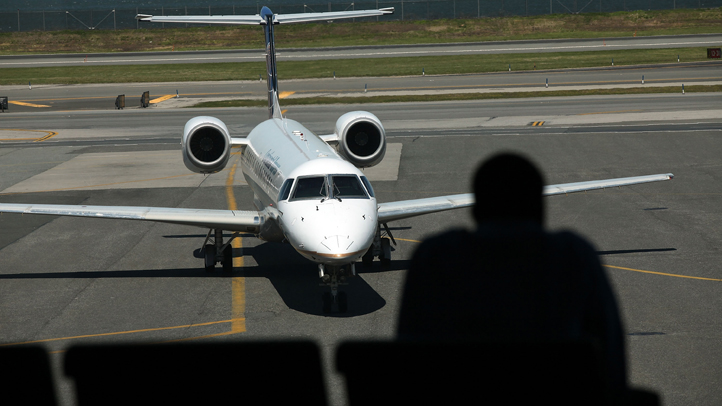 No fines have been issued yet after more than 14 American Eagle flights were stuck on the tarmac at O'Hare International Airport for more than three hours one day in May when thunderstorms hit the area.

A total of 16 planes waited on runways for more than three hours in the month of May, according to The Department of Transportation. That number is four times the highest number in one month since the April 2010 ruling that implemented fines for such long delays.
There are exceptions to the rule against long delays if it is due to safety or security issues. No fines have been issued yet because the government has not yet decided that any of the delays would warrant fines.
While fines have not yet been handed down from officials, airlines certainly felt the heat from passengers on a variety of issues. Complaints against airlines went up 20.8 percent from April 2011, and 33 percent from May 2010, reports USA Today. A total of 1,062 complaints were filed in May. Many of these complaints were related to the cancellations and delays that were caused by the storms.
American Airlines, who owns American Eagle Airlines, received the highest number of complaints, with 147.

The longest delay in May was a flight from El Paso, Texas, on May 29 -- the same day as nearly all the other delays for the month. It sat on the tarmac in Chicago for nearly four hours.

The other two long tarmac delays involved an American Eagle flight from New York's JFK to Indianapolis on the same date, and a May 11 Southwest Airlines flight from Denver to Seattle. Overall about 10,700 flights were canceled in May, or about 2 percent of scheduled flights. That's about the same rate as in April but nearly double the cancellations in May 2010.

Despite an increase in long delays, airlines were more on-time in May than in April, but they were late more often than in May 2010. About 77 percent of flights were on time in May compared with 75.5 in April and 79.9 percent in May 2010. Hawaiian Airlines, Alaska Airlines and AirTran Airways had the best on-time rates this May. American Airlines, its regional affiliate American Eagle and ExpressJet had the worst.

The rate of lost or damaged luggage rose during May from both the month and from a year ago. There were 3.52 reports per 1,000 passengers for mishandled baggage in May, up from May 2010's rate of 3.23 per thousand and April's rate of 3.24 per thousand.
Copyright AP - Associated Press