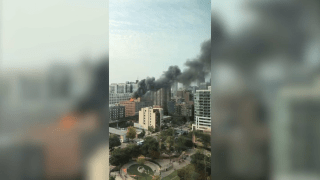 Smoke was visible for miles Saturday evening following a fire that engulfed the roof and upper floors of an apartment building in Chicago's South Loop, authorities said.
The fire occurred before 5:45 p.m. at the building located at 1545 South State Street, once the home of Siegel-Cooper Company.
Flames were reported on the roof, extending into the upper floors. As of 5:54 p.m., firefighters were washing down hot spots as residents waited to reenter their apartments.
Multiple people were being evaluated by paramedics, but no significant injuries were reported, the Chicago Fire Department said in a tweet.
Several apartments units sustained heavy water damaged.
It wasn't immediately known what caused the fire.