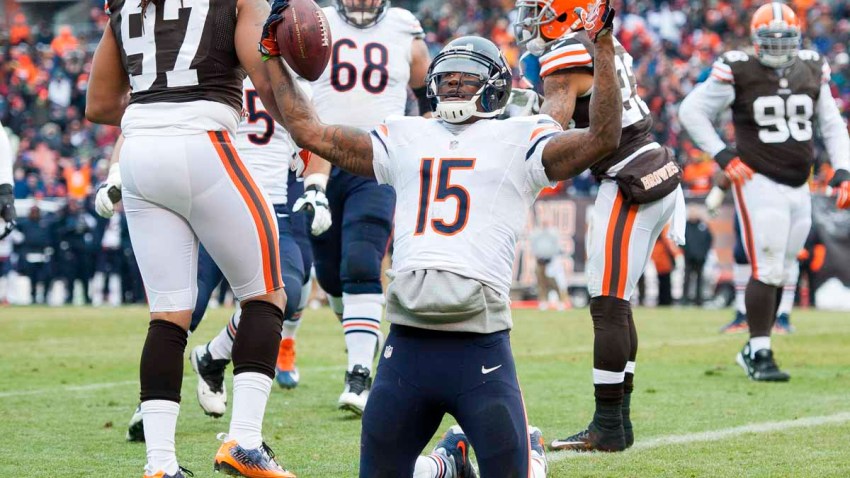 When asked to describe Chicago Bears wide receiver Brandon Marshall, there are a lot adjectives that come to mind.
Whether those words are terms that describe his play like "tough," "strong," or "athletic," or words that describe his off-field personality, like "brash," there is no shortage of things that people can say about the All-Pro receiver.
One thing that just about everyone can agree on though is that Marshall is a fashion-conscious player. Not only does he constantly rock designer suits in his postgame press conferences and on NBC Chicago's Sports Sunday, but he has also been known to push boundaries with his choices of cleats during games for the Bears. Over the past two seasons, Marshall has been fined three different times by the NFL for his footwear, including a $15,000 fine for wearing orange cleats in the Bears' victory over the Dallas Cowboys in Week 14.
On Sunday against the Cleveland Browns however, Marshall took a slightly different approach to what he put on his feet for the game. In an Instagram picture he posted after the game, Marshall revealed that he had made an extra effort to keep his feet warm during a frigid afternoon of football with these bad boys:
Since the shoes are the correct color, it's unlikely that the NFL would fine him for the cleats, but knowing that the Bears still have two games left in cold weather cities, it's likely that we could see these back on Marshall's feet next week against the Philadelphia Eagles.