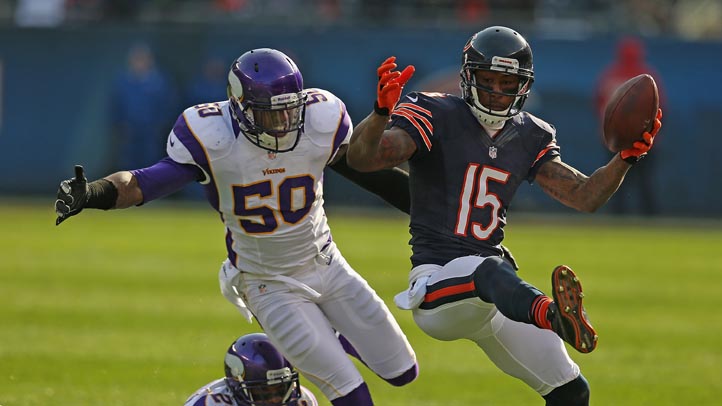 The Bears gameplan against the Vikings was to run the ball. And while they handed the ball off 39 times and Michael Bush scored a pair of touchdowns, Jay Cutler and Brandon Marshall are the ones inching up higher in the Bears' record books.

Cutler's 188 yards passing gives him 11,261total as a member of the Bears. That's third most in franchise history, surpassing Jim McMahon (11,203). Cutler now needs 307 passing yards to surpass Jim Harbaugh (11,567) for second most by a Bear all-time. Hall of Famer Sid Luckman has the most in franchise annals with 14,686.

Brandon Marshall again was Cutler's favorite target. Marshall caught 12 of 17 balls thrown his way for 92 yards. Against the Vikings Cover 2 defense, the passing windows were at times very small. The 12 receptions tied Marshall's season high catch total set Week 5 in Jacksonville. More importantly for Marshall is he now has 1,017 yards on the season -- a number he knew he was close to achieving.

"In the third quarter I leaned over to Jay and said 'That catch puts me at 1,000 yards for six seasons in a row' and he looked at me and said 'You're disgusting.' So yes, I'm aware of it. It's social media. So when you look at your mentions and people give you heads ups. That's how I know stats and records because the guys that follow me on twitter are tweeting me everyday things that I'm not aware of. So third quarter I definitely learned over to Jay and told him I was over 1,000."

Marshall is the first Chicago Wide-Receiver to hit the plateau since Marty Booker in 2002 (1,189). Only eight other Bears wide-outs have recorded over 1,000 yards in a season.

Tweet that!