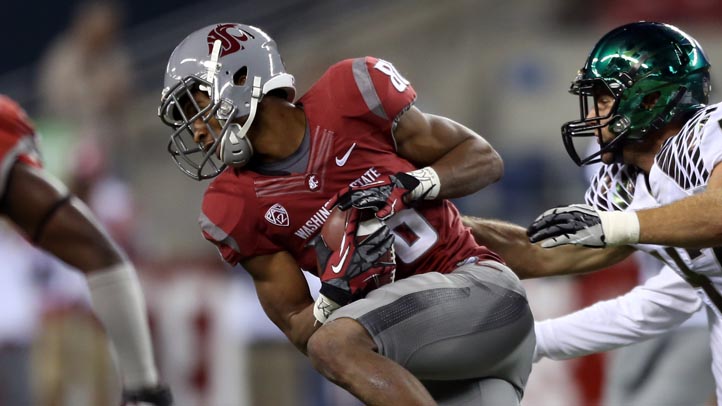 What kind of mistakes did you make when you were 20 years old?
Don't answer that one out loud.
For most people, youthful mistakes are forgotten, only to become the source of jokes when they are remembered years later. For new Bear Marquess Wilson, his mistake at 20 caused him to drop several rounds in the draft. Is it too much to recover from?
During his junior year at Washington State, Wilson was suspended for leaving a practice. He left the team when he said he was abused by Mike Leach and his coaching staff, but later recanted the allegations. The whole incident burned Wilson's bridges at Washington State and likely is the reason he was available in the seventh round for Chicago's taking.
For Bears' coach Marc Trestman, Wilson coming to Chicago is a chance for both sides to gain from each other.
"Giving Marquess a chance, a second opportunity to restart his career with a big upside. We feel he's coming to a locker room with great leadership and guys who can show him the way. So as I've said from the beginning, we're excited to get going on this and we can't wait until they get in here and we can start working with them," Trestman said after the draft.
Wilson wants to use his chance in Chicago to move past Washington St.
"I feel like I could have handled it a little better but like I said, I'm just moving forward now and just excited about the opportunity I have at hand with getting drafted by the Bears," Wilson said.
If he can make the most of his potential, Wilson will be a star in Chicago. He's a deep threat who can work the outsides. His speed would make a good addition to the Bears' offense, but he does have to gain muscle and make sure his on-the-field focus is ready.
Wilson could benefit from not just hitting the weights, but soaking in knowledge from his older teammates. He's not even old enough to buy a six-pack of beer, so learning from his elders could help him show the Bears he's ready for the pros. Brandon Marshall has had off-the-field issues and has mentored teammates in the past. Wilson would be wise to spend time listening to Marshall.
He can be a great player, but he will need plenty of time and patience from teammates, coaches and fans. If he makes the Bears' 53-man roster, he is going to make some mistakes. We'll find out if he's going to have a future in the NFL when we see how reacts to those mistakes.
Copyright FREEL - NBC Local Media