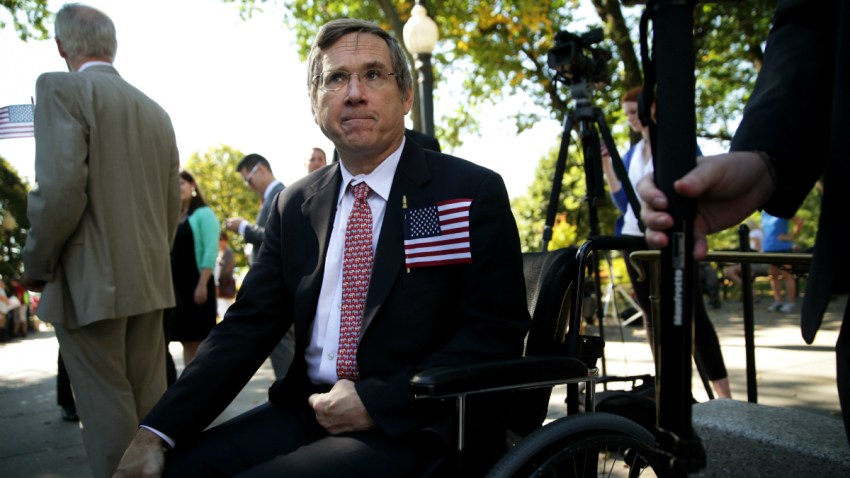 Sen. Mark Kirk is considered the "most vulnerable" Republican senator up for re-election in November, according to a new survey from media and tech company Morning Consult.
Kirk was ranked the 10th least popular senator, according to the report. He garnered a 35 percent approval rating, tied for the lowest among active senators, and a 38 percent disapproval rating, tied for the eight-highest among active senators. Additionally, 27 percent of respondents either didn't know Kirk or had no opinion of him.
Earlier this year, Kirk received a 39 percent approval rating and a 33 percent disapproval rating in a separate survey by Morning Consult, making for a 9 percent drop since April. At the time, 29 percent of respondents said they didn't know the senator or had no opinion of him.
The Kirk campaign responded Tuesday, discrediting the survey and taking a shot at Kirk's opponent, Rep. Tammy Duckworth.
"A dated poll utilizing dubious methodology," Kirk spokesman Kevin Artl said in a statement. "The simple fact is that Rep. Duckworth is one of the least effective, most partisan members of Congress who is facing substantial legal troubles for silencing VA whistleblowers."
Nevertheless, the Democratic Party of Illinois held up the numbers as evidence that Illinois voters are ready for a change.
"Considering Republican Mark Kirk has spent decades in D.C. doing the bidding of the Wall Street lobbyists and corporate special interests that fund his campaigns, it's no surprise Illinois voters know he's not doing a good job," DPI spokesman Sean Savett said in a statement. "No wonder Kirk and his Super PAC allies have spent months running negative ads."
"They know that voters are ready to replace Kirk with someone like Tammy Duckworth, who puts service to her country and to working families first," he added.
Meanwhile, an American Enterprise Institute-hosted panel on polling and electoral politics unanimously agreed Tuesday that Kirk has "no chance" of winning in November, the Daily Caller reports. The panel included AEI scholars Michael Barone and Henry Olsen.
Fellow Illinois Sen. Dick Durbin received a 41 percent approval rating and tied Kirk with a 38 percent disapproval rating. Additionally, 21 percent of respondents either hadn't heard of the senator or had no opinion of him. In April, Durbin garnered a 43 percent approval rating and a 36 percent disapproval rating. The percentage of respondents who hadn't heard of him or had no opinion was also 21 percent at the time.
Vermont Sen. Bernie Sanders was rated the nation's most popular senator, while Senate Majority Leader Mitch McConnell was ranked the country's least-popular senator. In April, both senators held the same rankings.