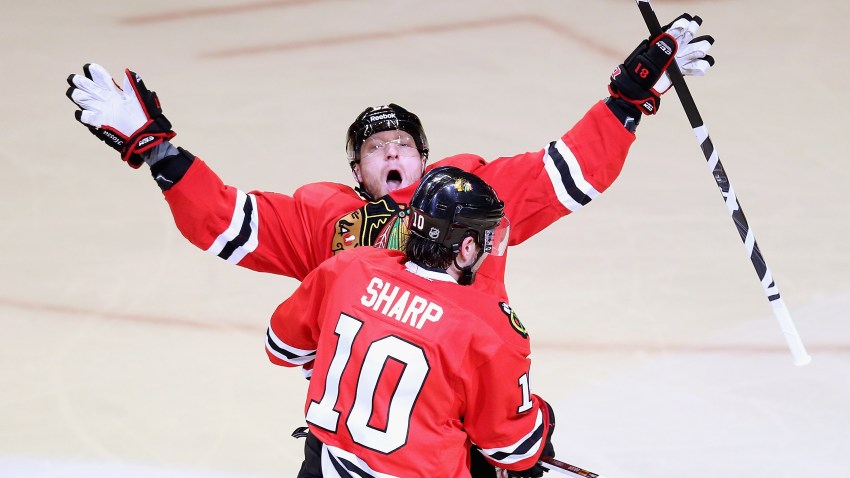 Out of the Chicago Blackhawks' forwards, Marian Hossa had one of the best first-round performances. He had three goals and three assists in five games, including a two-goal performance in the clinching 5-1 victory in Game 5 against the Minnesota Wild.
He started out the team's series against the Detroit Red Wings with a bang too, scoring a goal and taking five shots on goal in the team's 4-1 Game 1 victory.
After that, however, the bottom fell out. He only had three shots on goal in the Game 2 loss, three more as the team fell 3-1 in Game 3, and hit rock bottom when he only managed one shot on goal in a Game 4 loss that put the Blackhawks one game away from elimination from the playoffs.
The news only got worse for Hossa heading into Game 5. Not only were his numbers slipping, but he was losing some talented linemates, as Patrick Sharp and Jonathan Toews teamed up with Patrick Kane to form a new top line that was designed to take advantage of the Hawks' home ice-given rights to last line change.
The way Hossa has responded, however, has been nothing short of excellent. In Game 5, he didn't get on the scoreboard, but he did manage four shots on goal as the Hawks ratcheted up the offensive pressure on all of their lines and was a key component in one of the team's two power play goals, as his ability to win puck battles and keep possession of the puck came in handy in big ways.
In addition, his back-checking abilities came back to the forefront in that game. Hossa has always been a bit of an underrated defender, but when he isn't engaged offensively he sometimes will slack off in that area. That was certainly not the case in Game 5, as he helped the Hawks to disrupt the Red Wings' attack in the neutral zone and did a great job of shutting down their zone exits out of the defensive zone too.
Those abilities were on full display again in Game 6. Hossa added another weapon to his arsenal when he helped the Hawks establish solid netfront pressure, and as a reward for crashing the crease of Detroit goaltender Jimmy Howard, he scored a tap-in goal to give the Hawks an early lead in the game. He was also involved in their stellar third period comeback, adding an assist on Bryan Bickell's go-ahead tally in the third.
Hossa is often criticized for his play in the postseason, but as seen during the last two games, when he is on his game, often times his team is as well.