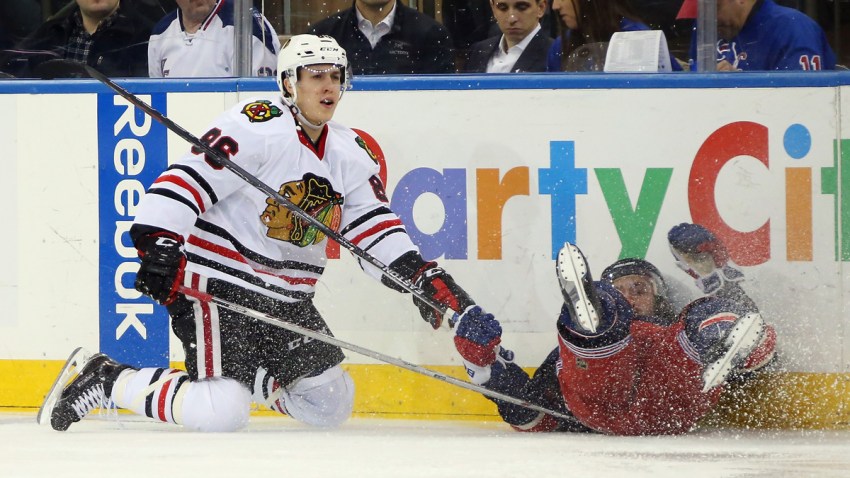 The Chicago Blackahwks' center depth and penalty killing units took a big hit on Thursday as head coach Joel Quenneville announced that Marcus Kruger is sick and will not play against the St. Louis Blues in a pivotal game.
Kruger, who has seven goals and 10 assists in 80 games so far this season, has been a big part of the team's reconfigured fourth line in recent weeks, as the group has started to gel before the postseason begins. He showed good chemistry with Teuvo Teravainen and Andrew Desjardins on that line before it was broken up going into the Tuesday showdown with the Minnesota Wild, and when combining that with his penalty killing skill, his loss is a big one for the Blackhawks.
As it stands now, Desjardins was skating in his place in the center role on the fourth line, with Joakim Nordstrom and Teravainen playing on the wings. Kyle Baun also remains a part of the Hawks' lineup, skating with Brandon Saad and Antoine Vermette on the second line.
The Blackhawks will also be without defenseman Kimmo Timonen for the second straight game, as he continues to deal with an upper body injury. He isn't on the trip with the team, so it's unclear as to whether or not he will return for the season finale against the Colorado Avalanche Saturday night. According to Quenneville, it does sound like Timonen will be back for the postseason, however.