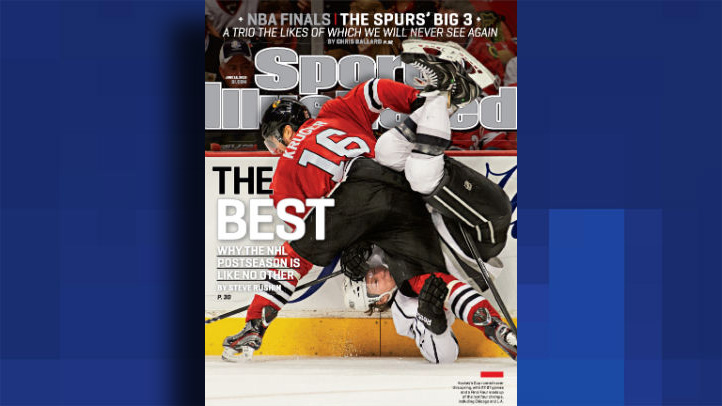 Earlier this year, the Chicago Blackhawks were featured in a Sports Illustrated cover story about how they had "brought hockey back." That cover generated plenty of conversation about how the mainstream media covers the sport, but now, SI is going back to the hockey well from a slightly different angle.
As you can see, the magazine will feature Hawks forward Marcus Kruger on the cover of their next issue, with the headline "The Best: Why the NHL's Postseason Is Like No Other." The cover, one of two regional covers the magazine will use (Tuukka Rask of the Boston Bruins is on the other), highlights a story by Steve Rushin on what sets the NHL playoffs apart from all other sports.
Here are a couple of highlights from the piece, which will hit newsstands later this week:
"And so it goes, on a nightly basis for eight consecutive weeks, the speeding, and the bleeding, making the Stanley Cup playoffs the most intense short-term spectacle in all of sports, a symphony for foghorn, swallowed whistle, and dentist drill."
He also shows some love for the traditional handshake line, in very poetic fashion:
"As the rest of the world abandons it in favor of the knuckle-bump or the finger-shoot – as Purell-pumping stations appear anywhere that human contact cannot quite be avoided – a few men have drawn a line against our increasing alienation. And that line is the playoff hockey handshake line."
Needless to say, the article is very pro-hockey. It seems highly unlikely then that the story will generate the kind of headlines that a cover insinuating that the Hawks had saved the sport did, but it definitely shows that, at least in the eyes of one mainstream sports journalist, hockey is a truly special game.