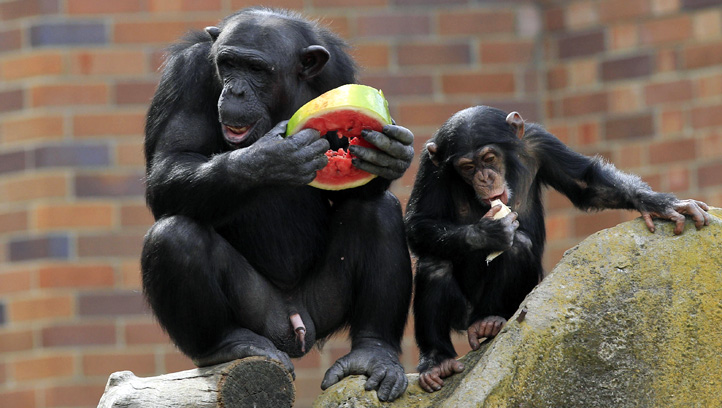 Unfortunately, there isn't really a non-stodgy way of introducing a full-service, digital creative agency, but Chicago's Manning Productions, founded in 1985 comes awful close.
"We're an agency that uses design and technology to solve your communications problems," their mission statement says.
Patrick Mouser, Manning's art director, goes one step further: "Pretty much anything you may see on a screen we can probably create."
That isn't exactly bragging or simian-like chest-pounding: Over the years, Manning has worked with everyone from Fortune 500 companies and non-profits to craft everything from complex web sites and touch-screen kiosks to games and iPad apps.
But one thing they haven't done before until this year? Work with the Lincoln Park Zoo. The beloved local attraction was looking for a way to help get the word out about Project ChimpCARE, "a non-partisan group committed to improving the well-being of chimpanzees," and Manning won the big when it put out a call for RFP. And true to Manning being an inspired organization, it pitched them something the zoo hadn't done before either, an iPad app to help get its message across -- in a digital kids' book. Chimps Should Be Chimps, is slated to launch Dec. 1 via the iTunes store.
I gave Interactive Project Manager Claire Friedman and Mouser a call to find out how they won the bid with the zoo, what goes into making an iPad app, and why you should never say no to your own ideas. Oh, and also why you shouldn't chase new technologies just because they're new.
To start off, can you give our readers a bit of background on your organization?
Patrick Mouser: Our company was founded in 1985 by a two-person video production house. Our owners who still own and work actively in the company were both veterans of news media when they got started. They did that for a number of years and as the Internet became more popular, obviously the clients started asking questions. They realized there was a demand growing so they started developing those skills and bringing on staff to accommodate that. At this point, we call ourselves a "full-service digital creative agency," and what we mean by that is we provide full-service communication services but we specify in the digital realm to meet the needs of our clients.
How big has your staff gotten now?
Patrick Mouser: We have approximately 10 people.
So you've grown five-fold, then?
Patrick Mouser: [Laughs.] Yeah, and it fluctuates depending on projects.
So how did the Lincoln Park Zoo project come about, and what did they approach you with?
Claire Friedman: The Lincoln Park Zoo put out an RFP looking to promote a project internal to project ChimpCARE, which focuses on raising awareness of the mistreatment of chimps in entertainment, since once they reach about 5 or 6 years old they're usually taken out of any sort of entertainment capacity and abandoned, essentially. The zoo does a lot to rehabilitate chimpanzees like that, that really can't be reintroduced into the wild or anything. They were looking for a way to spread awareness about that and we came to them saying, "Well, how about instead of going through one of the normal channels of media we create an iPad childrens' book. That way we reach children and we reach that message and raise awareness of that at a very young age. At the same time, if they're on an iPad, they're probably with a parent, and we raise awareness for those parents."
The real goal is to start that conversation of what is happening, why is it happening. The nice thing about working with the zoo is they've given us so much freedom on this project. They've put a lot of trust in us. Again, [with] doing something that is fairly new, it's really nice to have that level of flexibility and support.
It's nice, too, because the selection for free books on the iTunes store is not huge, and the amount of work that we've put into this particular app really raises the standard of that particular group of iPad apps.
What was the zoo's initial idea of the audience they wanted to reach and the method they wanted to use to get their message across? Or did they not have any at all if they were putting out an RFP?
Patrick Mouser: They were at the phase where they had grant money and they just saw it as an opportunity to make some sort of outreach effort or plea to the public to get these facts out. That was sort of as far as they had gone. They were probably leaning towards an informational video or some sort of video piece that they could put on YouTube and hope that it would get some traction. I think that's as far as they had gone before they had reached out. We gave them some more traditional ideas just in case that was what they wanted to do, but we had the idea for the iPad book. They were intrigued by it and they wanted to see what we would be able to do.
Now that you're approaching its launch, has the final product wound up being pretty much as you pitched it? Or were there changes that the zoo wanted you to make?
Patrick Mouser: The initial pitch really didn't go a ton farther than to say that doing an iPad book would be an interesting approach for a couple of different ways. Any sort of contentious issue or moral issue, drawing a line in the sand with adults tends to get confrontational very easily, and it's really hard not to come off as preaching. We saw that part of it but we really had no idea how it was going to take shape. The most difficult part of it was that it's not a very easy issue to deal with it in the way they wanted to do it. It's a very touchy subject, and we're trying to walk a very fine line and come across in the right way. The most surprising thing that we couldn't have seen coming is how the actual story itself would develop.
How big was the actual team making the iPad app? I was speaking with Claire earlier and she said it was a small team: Does that mean it's much easier than most people probably assume it is to make something like that?
Claire Friedman: No. [Laughs.]
Patrick Mouser: Yes and no. I think the skill set that is required is a pretty high level of proficiency, across a couple of different disciplines. But the manpower is maybe significantly less than people might expect. We had, at various points of the project, five or six people from the office working on this. But in terms of the content that actually is in the app itself? I think there were basically only four people working on it.
Claire Friedman: For us, it was effort on behalf of almost our entire office. Just given the skill set and focus that we distributed across the office, and people wearing multiple hats? I think there was a fair amount of that, and we also had specific leads for each portion of the project and we put a lot of effort into the planning and storyboarding and things like that. At any point in the project, everyone knew exactly what they had to do and when they had to do it by. I think that was really helpful in terms of streamlining that process so we were able to do it with our four core people and two to three extra hands in that.
Patrick Mouser: It's tough for us to characterize because it seems like such an all-consuming thing because of the percentage of our company, it took a lot of resources, but when you stack that up against big agencies and all the alternatives and traditional media? I think it's pretty remarkable how small the team was. Let's say the zoo had gone in another direction and decided they wanted to shoot a 30-second TV commercial that dealt with this issue. You're talking about probably the same amount of people at an agency like ours, plus hiring a crew of potentially five, six, seven people. You're talking about people doing media buying and placement. Ultimately you end up with a project that you're paying per-play on-the-air and you only get a 30-second air, and it's not very engaging. You're speaking at people. We've created something people can interact with for years into the future, potentially. It delivers the message in, honestly, a much more engaging way.
Do you have any advice or memories of things you learned the hard way from engaging on this partnership and making an app for another local entity with such a defined reputation?
Claire Friedman: Just, really, don't let yourself be limited by what you think you can do. We did so much in our project that we have never done before. I feel like if we had stopped in those first proposal meetings and said, "We don't really know how we'd tackle this kind of story, or the development, or the illustrations," then this book never would have happened. It's been a really enjoyable project to work on. And even though it's been a ton of work, it's consistently been very rewarding work. I think not stopping ourselves and following through and saying yes to whatever ideas we came up with was very important.
Patrick Mouser: As you go to find someone to partner with you on this, ultimately the app or whatever else is just a thing. It's just a means of distribution. The decision shouldn't be about what the end product is. The decision should be about partnering with a company who is able to understand your organization and your challenges and then best align a solution to that challenge, whatever that may be. In this case it happened to be an iPad, and that's sort of a sexy story. But if it was a different client and a different problem we very easily could have come up with a different solution. But if it was right for them, that's what we would have done. Don't define your work or your agency by the output. Define it by the ability to solve your problems.