A man says he was denied entrance to a Chicago pizza restaurant because his clothing, which included a pair of $250 pants, didn't meet the eatery's dress code.
Antar Jackson filed a discrimination complaint Monday against Parlor Pizza Bar in Chicago's West Loop.
The complaint alleges that Jackson went to the restaurant with his wife around 7:30 p.m. June 5 for dinner and was told by a security guard "he would not be able to let me in wearing the pants that I was wearing," the complaint states.
"I asked him why and he told me, 'Because they're too street,'" Jackson said.
Parlor Pizza Bar said in a statement it enforces what it calls an evening dress code every day beginning at 5 p.m., stating "athletic wear is prohibited under our policy and unfortunately, the gentleman in question was wearing sweatpants."
But Jackson said the pants he was wearing were actually tailored wool pants by designer Vince, valued at $250. He also claimed that as he and his wife were leaving, they noticed other patrons dressed far more casually.
"Saw people in yoga pants, baggy cargo shorts, baseball caps, and at that point in time we decided that we wanted to go back and talk to a manager," Jackson said.
When he was still denied entry, Jackson said he began to believe the issue was less about dress code and more about race.
"You go from feeling kind of bewildered, to feeling shocked, to feeling embarrassed, and then you start to kind of ask yourself, 'Did I do something wrong?' he said. "And then you get angry."
A spokesperson for Parlor Pizza said the incident was "in no way discrimination," and noted that the restaurant's dress code is posted on its website and at the entranceway. They added that security footage showed Jackson was wearing a baseball cap and shirt at the time, which may have contributed to the thinking that the wool pants were sweatpants.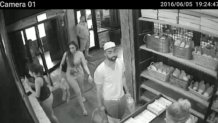 "We want everyone to enjoy our pizza and feel welcome at any of our locations, but they must respect our policies," the restaurant said in a statement. "We enforce them daily to ensure that our guests' experience is always consistent. We are very sorry to hear of the recent accusation and take these situations very seriously. We hope this guest will come dine with us again in the future."