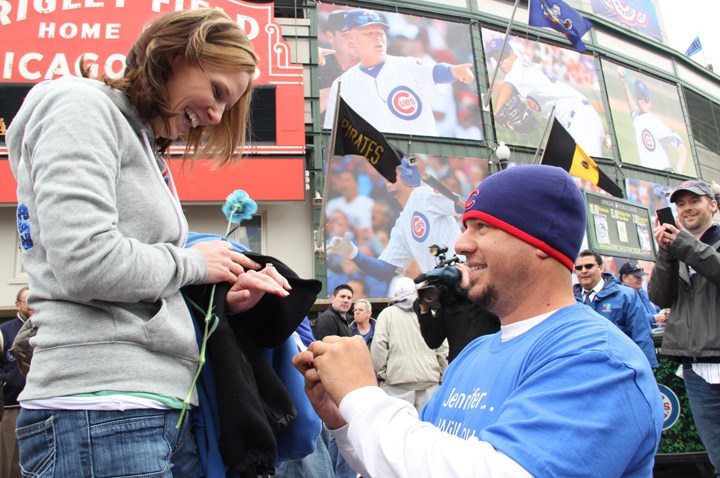 Hope springs eternal on Opening Day for Cubs fans, but apparently love does as well.

Just ask Chad Klatt and Jennifer Littlefair who got engaged in front of Wrigley Field Friday.

The Somonauk, Ill., couple has been dating for a little more than a year. They attended Opening Day last year and their love blossomed over a summer spent at Wrigley Field.

So when Klatt decided he was going to pop the question, there was no doubt where he wanted to do it.

"We came here last year and it was just an unbelievable experience, so I just thought this would be the perfect place. It's my favorite place in the world," Klatt said.

Klatt wore a t-shirt that said "Jennifer, will you marry me" on the front -- which he kept hidden from view -- and when the two passed in front of the iconic sign in front of Wrigley, Klatt took off his jacket, and got on bended knee.

Littlefair didn't hesitate, and said yes, prompting Klatt to turn around and reveal the back of his shirt, which read, "She said yes ... Go Cubs!"
Obviously he was confident.

"I'm shocked. We had talked about getting married before, but I had no idea he was going to pop the question today," Littlefair said. "I can't think of a better place for him to do it."