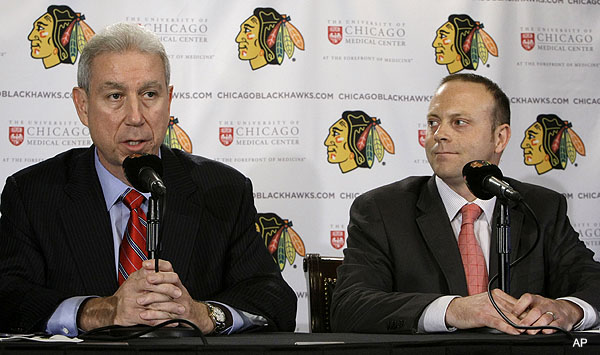 While Stan's name will be on the Cup, that was Dale Tallon's team. Tallon had made all the draft picks and free agent signings, and Stan Bowman's only contribution to last year's team was the acquisition of Kim Johnsson from Minnesota.

Johnsson got hurt after eight games and wasn't seen again. So much for that.

This year's was the first team that Stan's fingerprints were markedly on. And a lot of it was done while having to clean up the cap mess that Tallon left behind and wasn't around to have his nose rubbed in and then put outside.

How did Stan do? Hit and miss.
Positives: While being in the definition of a prone position last summer with having to jettison money and everyone knowing it, Stan didn't do too badly.

Viktor Stalberg could be a nice piece one day and certainly can fill a role. The Jeremy Morin acquisition for Dustin Byfuglien (along with the picks) is going to look very tasty a year or two down the road. Getting Michael Frolik and Alex Salak (next year's backup) for Jack Skille and a never-will-be prospect is a borderline steal. Though it was out of utter desperation, getting Ryan Johnson off the scrapheap proved useful. Chris Campoli was a nice pickup, though not much more.
Negatives: It rhymes with Bonn Scott, if only John were nearly as good at his job as Bonn was at his. The presence of Scott indicates a line of thinking that modern hockey minds put out to pasture long ago.

Partially due to that, Bowman left the Hawks shortanded on the blue line past the top four, meaning we had to deal with Nick Boynton and Scott for longer than any humane treatment should indicate.

His bottom-of-the-barrel signings to fill out the forward corps -- which he really didn't have much of a choice in -- left the Hawks short there too. The times the Hawks had to dress 10 forwards due to over-cap managing or straight up incompetence were unacceptable. His taking up of the 50 contract maximum for players in Chicago and Rockford gave him no flexibility. And some of those contracts didn't need to be handed out.

Bowman is also responsible for not recognizing that Ben Smith could have helped out a lot earlier than he did, while Scott and other dunderheads got a turn on the fourth line. He brought over Marcus Kruger and tried to sell us on the swamp-land that it was the plan all along, and Kruger clearly wasn't ready.

Either Bowman was lying or he can't scout his own system. He also force-fed Nick Leddy to the top team when Leddy clearly isn't ready for an NHL-role, or wasn't until the very end. That may stunt his growth permanently.
Outlook: We'll reserve final judgement on Stan until after this summer. This is the first time he's got a little cap room to play with, while having to retain some of his own acquisitions. A couple kids in the system, namely Jeremy Morin, will be closer to being ready to contribute regularly. If Stan can outfit this team and have it ready to scale the mountain again, we'll chalk this year up to practice and getting feet wet and the like. If they stumble again, it's not our opinion he'll have to worry about, it's John McDonough's and Rocky Wirtz's.
Copyright FREEL - NBC Local Media