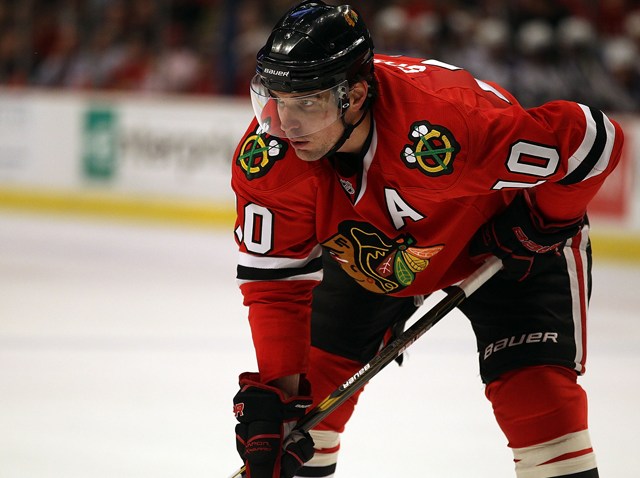 If you're like me, there's a part of you that can't quite warm all the way up to Patrick Sharp simply because he's 385 times more handsome than all of us. But beyond that, as a hockey fan, we all love Patrick Sharp because we've watched him grow up. He was acquired in the first season out of the lockout for nothing Matt Ellison. That season he looked like one day he might, just might max out as a 3rd line center. We watched him grow into a 20-goal scorer the next year from center. Then came the 36-goal explosion in Kane's and Toews's first year, where he moved to wing (which we didn't know he could do). From there he became as versatile a two-way center as you could find. And with that growth, expectations have spiraled upward, and it's so easy to not meet them. Let's delve into the complex soup that was Sharp's year.
Positives: Well, 34 goals is 34 goals. Sharp has become one of the league's premier snipers, and there just aren't that many around. Sharp's ability to just be in the right area to score is something you can't teach. When he moved up to the wing with the kids, they produced some of the most breathtaking hockey Hawks fans have seen this decade (and possibly others). When he moved back to center for the playoffs, he gave the Hawks the depth down the middle they lacked all year. He finally found a home on the point on the power play, which had been a wonky fit before. He remains one of the bigger shorthanded threats around.
Negatives: Plenty here too. For at least the first half of the season, while he was among the league's leaders in goals, his defensive play bordered on theater of the absurd, virtually wiping out those goals. Sharp was constantly fleeing the defensive zone before the Hawks had clear possession in a rush to get a scoring chance, leaving his d-men stranded. He stood and reached far too often instead of moving his feet. While he was a threat to score on the kill, his actually killing wasn't up to last year. He didn't win faceoffs at the same rate. Most of all, his aversion to playing center and his preference to just be a one-dimensional scorer on the top line left the Hawks abandoned at times down the middle, especially when Dave Bolland got hurt. Patrick Sharp was the #2 center on a Cup-winning team, and it seems at times he forgets that. This team was just more solid with him at center, and interested in being there, despite all the goals he poured in on the wing.
Contract Status: One year left at a cap hit of $3.9 milliion.
Keep Him or Ship Him: Well he's not going anywhere, and he will be the next prospective free agent who will send Hawks fans into a panic about his upcoming unrestricted free agent status. But before we get to that, the Hawks have to figure out what Sharp is. He's either a sniper from the wing, or he's a #2 center. Neither is a wrong answer, but the Hawks have to pick one and tell Sharp that's the way it's going to be. If he's a wing, then they have to go find another center. If he's in the middle, they need to go find a big winger. A lot of the offseason planning hinges on what they decide #10 is. The fact that he can do both so well is a luxury most teams don't get, but that doesn't mean the Hawks have to use him at both.