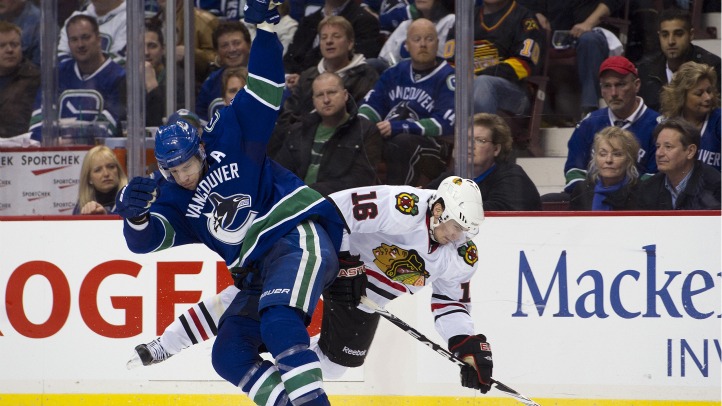 Yet another review of a player where most of the subtext isn't about the player himself at all. Marcus Kruger, a fifth-round draft choice a couple years back, was talked up big in training camp. Or at least that's what they told us at the end of the season when he was brought over, even though most people only remember a little buzz in September about him.
Kruger was brought right to the big club after his Swedish team's season ended, and Stan Bowman informed us that was "the plan all along." Strange that it came after it became obvious Dave Bolland wasn't going to be returning to the lineup any time soon, and Patrick Sharp was hurt as well. Whatever was true or not, it put an unfair lens on the Swede, who clearly wasn't ready. But once again, the most harsh judgments on his play are directed at those who put him there, not the player.
Positives: They didn't come until the last two or three games against Vancouver when Kruger entered the lineup again (He was scratched for Games 1 and 6). Krugs showed some poise with the puck, and an ability to pick a pass with that. He didn't look overawed at playoff hockey, as he did at times during the regular season. That's a skill to build on, because you can't teach having confidence to play with the puck. Other than that, it's hard to say.
Negatives: None that are his fault, really. Kruger just wasn't ready for NHL hockey, and to be thrown in in the middle of a desperate playoff chase was a task akin to holding up the Michigan Avenue Bridge with one hand. He was pushed off the puck too easily, didn't make plays in time with the decreasing time that one gets in the NHL. Though usually in the right position defensively, there were still some breakdowns, especially in Detroit when he left Nicklas Lidstrom all alone. Has a ways to go. But the biggest negative was him being shopped as an answer when he never was. If Stan and Coach Quenneville had just been honest and said we're short on centers and we think this kid might help, instead of trying to peddle this plan of bringing him over no matter what went on with the Hawks, the light would be far less harsh. If Bolland and Sharp had been healthy, was Kruger really ready to be a 2nd or 3rd center on this team. The answer is a clear "no".
Contract Status: Signed for two more years at a cap hit of $900K
Keep Him or Ship Him: Stan Bowman will be desperate to prove that Kruger is ready for the big leagues, but he simply isn't. Adjusting to the North American game takes time for even the most talented, and with the Hawks needing a big upgrade at the center position as it is, Kruger must start next year in Rockford skating either #1 or #2 center minutes. Until he proves he's more effective at the position than Patrick Sharp is (assuming one isn't just brought in), he can't improve this team. We'll see if that happens now that his contract has started. But there are tools to work with, and the Hawks should be patient enough to reap those rewards down the line, when they've ripened.