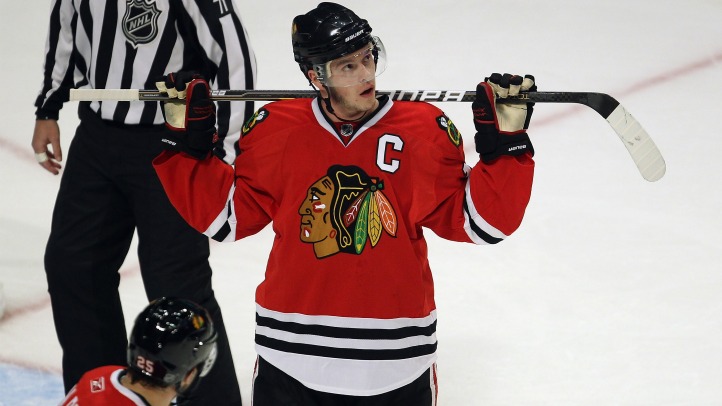 It's hard for Jonathan Toews to take a misstep around these parts. He is everything a Hawks fan could ask for, and the promise of what he will bring (and has already) seems to lord over all.

When he does slip up, the correction he makes is so overwhelming that you forget about the original mistake.

Jonathan Toews ducked almost all criticism this season, and for a lot of it he was superb. But he wasn't for all of it, and this is the leader of a team that a lot of nights couldn't be bothered.

Some of that blame has to fall on him. We'll try and suss it out.
Positives: A career high in points with 76. Close to matching his career high in goals with 32. And from January to April, Toews put the Hawks on his back and simply willed them into playoff contention.

In the 35 games from January through March, Toews piled up 43 points. He even got himself, however briefly, into the Hart Trophy discussion, and is a finalist for the Selke Trophy for league's best defensive forward (a nomination that came a year too late, but whatever).

Toews inspired his teammates for a win in St. Louis when they were awful in the first period. And even though a banged-up and fatigued Toews was shackled by Ryan Kesler for the entirety of the first round, he put the Hawks on the brink of the greatest comeback the sport has seen by simply deciding to score a short-handed goal with less than two minutes left.

It was simply pure will, and only a few players can manage that.
Negatives: Here's where things get blurry. While few whisper it, Toews was as guilty as others some nights early in the year of not applying the proper effort. When you're captain, and your team is taking nights off, it is on you to steer them back when you're at the wheel.

Toews didn't always do that. His attitude of laughing off the notion that the Hawks could miss the playoffs infested the rest of the team, while veteran Brian Campbell was rightly sounding the alarm at the early stages. Toews also hit a wall in April, due to ill-health and the heavy minutes and load he was asked to carry. He only scored once in the last seven regular season games, and obviously once in the playoffs. How much would just one more Toews goal in any of those games that were so close have meant?
Contract Status: Signed for four more years at $6.1 million cap hit.
Keep Him or....Don't even need to finish this: Toews is the cornerstone of the franchise. I will bet anything that he hasn't won his last Conn Smythe Trophy. He's one of the best two-way players in the game at 23. He only cares about winning. And with this season leaving such a bad taste in his mouth, you heard it here first, Toews will come back with his first 40-goal, 90-point season next year. He will be the leader from jump street next year that he was from January on this year. There won't be any stopping him.
Copyright FREEL - NBC Local Media