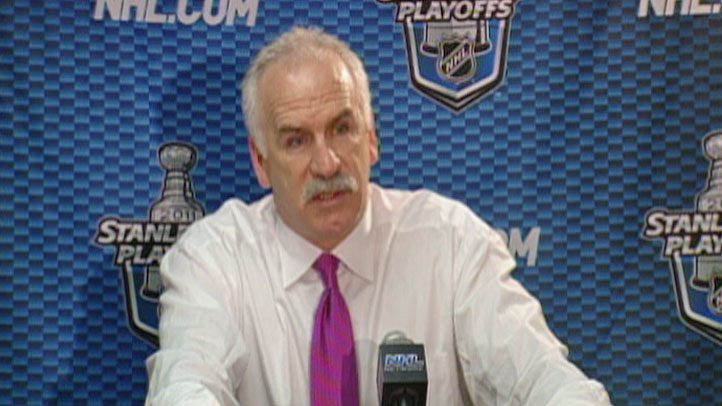 You get funny arguments about coach Joel Quenneville in this town.

While he's the first head coach to bring a Cup here in 49 years and the first to bring anything to town since 2005, you'll find many who don't appreciate that fact.

Yes, last year's team seemed pretty auto-pilot at times, and a coach probably only had to get out of the way to ensure that team's success. But Quenneville was at the helm, and he has to get some credit for the development of players on that team.

Kris Versteeg, Dustin Byfuglien, Andrew Ladd, Ben Eager and other forwards played the best hockey of their careers under Q. Duncan Keith and Brent Seabrook didn't take the leaps forward into national prominence until Quenneville tutored them. Brian Campbell's game has become a lot more whole than it was. So how did he do in the repeat? Sadly, not as well as we'd hoped.
Positives: Q was able to rouse a team that looked dead for certain down 3-0 within a couple of inches of pulling off the biggest upset in hockey history. That says something for getting the team motivated and focused. Quenneville was also, after a very long stretch, able to get Nick Leddy to become an NHL-level d-man. He didn't hesitate to go to Corey Crawford as the starter, while some may have catered to Marty Turco and his veteran status longer than he did. The power play was able to bounce back from being mediocre last regular season to lethal this one, though that's probably down to his assistants more than Q.
Negatives: Yeah, ouch. Where to start? OK, early in the season it was obvious that Duncan Keith wasn't at the races most nights. And Quenneville still ran him out there for 30 minutes a night, leading a toll that even Keith at the height of his powers couldn't handle, much less the ragged, disinterested one he had this year. Young players that needed to develop, such as Viktor Stalberg and Jack Skille, were given too short a leash in Q's points-chasing early season that didn't end up collecting enough points anyway. John Scott was dressed far too often (which means at all). His constant line-juggling -- which does probably get too much scrutiny -- did seem to frustrate players and throw them off rhythm at times. While Crawford earned the starter's job, he was ridden a light too hard at the end of the season and gave some pretty tired performances that tossed away points the Hawks needed. Some odd defensive pairings at times led to too many breakdowns, such as the nightly breakaway that Keith and Leddy were intent on giving to opponents. The penalty kill was a season-long orgy of goals against and mistakes, and while that's also down to his assistant than he, he is ultimately responsible.
Outlook: Quenneville can be given somewhat of a pass, because like the rest of the team and organization, he was defending a Cup for the first time. But a team that so often wasn't motivated or working hard enough has to reflect the coach. Returning to values -- such as the need for a goon -- that he shirked last year for a Cup just made no sense. Not developing a team ahead of trying to win the next game left the Hawks without a more developed bottom of the roster. That left him needing to ride his stars heavier than the horse at the end of True Grit, and they came up empty for the most part in the postseason. But it's a new start in September, with a position that Quenneville is more accustomed to. However, continued struggles and the same mistakes being made, and one would have to start thinking about the axe.