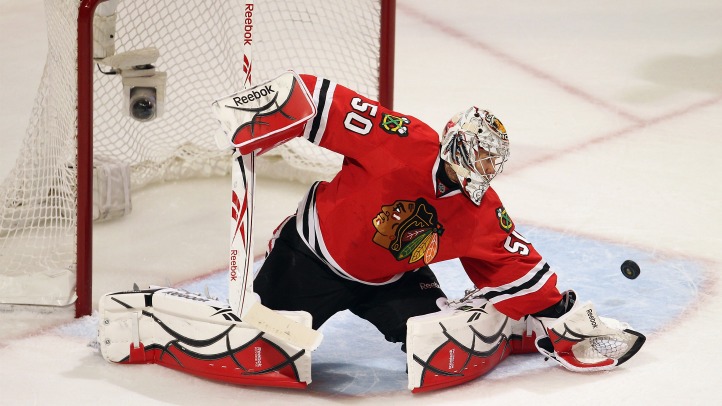 A lot of us doubted that Crow would get to lead things off as the team's No. 1 goaltender, but here we are. It shouldn't have been a surprise, as the Hawks have been waiting on this guy for years and he had a fair case to beat out Antti Niemi on last year's team. It was his contract that got him sent down, and it's that contract that is the main talking point this summer. Sports are weird, aren't they?
Positives: Many. Crawford demonstrated the ability to be a plus starting goalie in this league. Most impressively, he was able to shoulder a load of work that no Hawks goalie has seen in years, ending with 33 consecutive starts. And he got stronger at the end of the year, with superlative performances against the Canucks in Games 6 and 7, keeping the Hawks in a series in which they should have been beheaded far earlier than they were. He flashed an ability to have the save at the right time, no matter how the game was going. Excellent in shootouts, though I still loathe the concept those extra points come in handy, considering the Hawks needed every single one just to sneak into the post-season. Controlled movement kept the Hawks' defense from panicking. And he did this while playing behind a defense that at times was woeful, sometimes good and, most of the time, just plain mediocre. Crawford should see a jump in numbers when the guys in front of him return to form.
Negatives: There are a few of these. Crawford's positioning can sometimes be off, especially with players flying down the wing. He would cheat too far to one side a lot of the times. His movement from side-to-side can be a little slow, leaving him open to one-timers and goalmouth scrambles. He doesn't handle the puck that well but isn't terrible. He did fatigue in March with some bad outings against Florida and others, but that's not really on him. Still, all of this is correctable.
Contract Status: Restricted Free Agent
Keep Him Or Ship Him: No-brainer keeper here. The Hawks finally have a genuine, No. 1 goalie who is only 26 and might still have room to grow. Moreover, he shouldn't be all that expensive. He's restricted, so there won't be a bidding war for him, but it shouldn't even get to that point. Jimmy Howard's two-year extension in Detroit at $2.2 million per is the bar, their numbers are almost identical. And the length is right, as Crow should be given the chance to play himself into a big, unrestricted payday if he makes the trade of taking a lower salary now. It's the first priority this offseason and should be done before Memorial Day if Stan Bowman has anything resembling a clue.