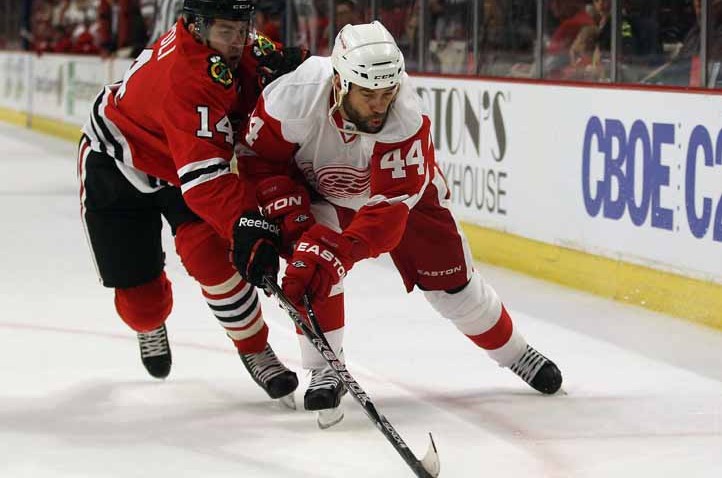 Chris Campoli was about the last guy anyone thought the Hawks would acquire at the trade deadline.

Stan Bowman had come out and said they were looking for a defenseman with size, and maybe that's partly why it ended up being Campoli. After all, if you tell other GMs what you're looking for, chances are they are going to hold you hostage.

So with a 2nd round pick and Ryan Potulny, Bowman ended up with the type of player we thought the Hawks had enough of already. But Camps suprised us all, except for that part at the end there.

Wish we had that one back.
Positives: Campoli was as advertised, a pretty good puck-moving defenseman with good wheels. He showed a wonderful ability to make a small pass in his own zone that got the Hawks out of trouble and rushing the other way. Usually from just behind the net to his partner or forward no more than seven feet away while under duress. It was the kind of play that Duncan Keith made all the time the previous season. Campoli also was effective on both special teams units, though he didn't have a reputation as much of a penalty killer when he arrived. During the playoffs, Camps showed more snarl than pretty much anyone on the team, not afraid to clear his crease and get in people's faces after whistles. Clearly he felt at home in the playoffs.
Negatives: Well, small matter of that turnover that only ended the season. But aside from that, Campoli also could be positionally clueless, especially in regular season overtimes. With the four-on-four, you could always count on Campoli to go shotgunning up the ice no matter what the devil would think and leave anyone else stranded. He did this at even-strenght at times. Despite his desire, his lack of size doesn't make for a crease-clearer, and he could get overpowered at times. Showed some impatience as well when facing teams that were trying to close down the neutral zone.
Contract Status: Restricted Free Agent
Keep Him or Ship Him: Could go either way on this one. While Campoli certainly found a home in the Hawks up-tempo style, they already possess three defensemen who fit his job description of a quick, rushing, offensively capable blue-liner (if indeed Nick Leddy is that right now). Still, Campoli was able to partner up and down the Hawks roster with pretty much everyone, and it worked out. Could save Keith minutes next year by taking his power play time. If the price is reasonable, then it can't hurt to bring him back. But if it's not, the Hawks could probably use more stay-at-home guys as it is. 50-50.