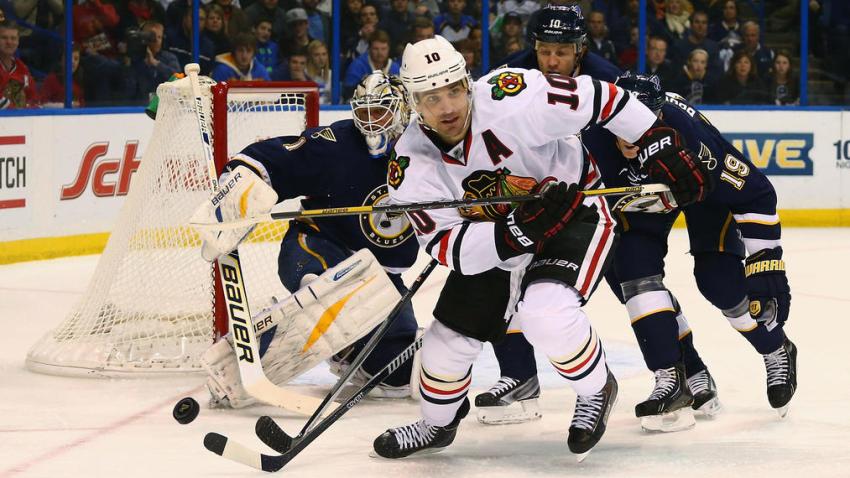 Every week (even weeks when we are slightly delayed because of holiday festivities), Madhouse Enforcer will take a look around the Central Division and let you know who's hot and who's not in our little corner of the hockey world.
1 (Last Week's Rank: 2): St Louis Blues
For the longest time, the Blues have been ranked behind the Blackhawks in this list, but this week, we have no choice but to give the Blues the top spot. They beat the Blackhawks again on Saturday in a 6-5 shootout victory, and in the process lifted their record in the Central Division to 13-0-1. Meanwhile, the Blackhawks are 9-6-2 in divisional games.
The Blues also took care of business against the Stars, who are showing some serious mettle as of late. St. Louis hasn't missed a beat with Alex Steen out of their lineup, and with Kevin Shattenkirk, TJ Oshie, and David Backes all being named to the US Olympic hockey team, the hockey world is clearly taking note of the Blues' status as a legitimate Stanley Cup contender.
2 (Last Week's Rank: 1): Chicago Blackhawks
The Blackhawks are back to proving that they are capable of winning games in numerous ways. They beat a trapping defense in throttling the Devils just before Christmas, they skated circles around the Avalanche in a high-tempo contest, and then won a physical slugfest against the Kings on Monday.
The ONLY reason the Blackhawks dropped from the top spot in these rankings is their inability to beat the Blues. They held two different two-goal leads against St. Louis on Saturday, but even still their record fell to 0-1-2 against the Blues this season.
The Blackhawks will look to bounce back when Corey Crawford returns to the crease against the Islanders on Thursday, with a trip to New Jersey and a home game against the high-flying Sharks on the docket after that.
3 (Last Week's Rank: 3): Colorado Avalanche
The Avalanche's road trip through three extremely tough Western Conference arenas didn't go too well, only picking up two out of a possible six points. The low point was a blowout to the Blackhawks at the United Center, as Patrick Sharp and company skated circles around the Avs.
Patrick Roy and his team will have a chance to bounce back though with a nice long homestand.
They've gone 1-0-1 so far on it, and will face the Flyers, Sharks, and Flames to round out the upcoming week. In order to win those games though, they have got to cut back on their shots against numbers, as Colorado has surrendered an average of nearly 40 shots per game in their last five contests.
4 (Last Week's Rank: 4): Dallas Stars
Aside from a bit of a stumble against the Blues in an overtime loss on home ice, the Stars did a great job in the later stages of December to position themselves for a potential run at a playoff spot. They have gained at least a point in their last seven games, and they picked up crucial victories over really good teams like the Avalanche, Canucks, and the Kings, whom they beat twice.
The great thing for the Stars is that they are getting contributions from all over their lineup. Jamie Benn is leading the way, but youngsters like Antoine Roussel, Ryan Garbutt, and even veterans like Erik Cole are getting in on the act. It's a heady time for Lindy Ruff's Stars, and it will be interesting to see if they can keep it up.
5 (Last Week's Rank: 6): Winnipeg Jets
The Jets still aren't a playoff team, but three straight wins last week certainly helps things. Al Montoya has been playing some great hockey after Ondrej Pavelec struggled through the middle part of December, and the Jets also are getting great production out of Blake Wheeler, who was named to Team USA over players like Bobby Ryan and Brandon Saad.
The road for the Jets is about to get a lot tougher though, as they have back-to-back road matchups against the Bruins and Penguins this weekend. If they can get out of those games with two points, then perhaps the meter is finally pointing in the right direction for the team.
6 (Last Week's Rank: 5): Minnesota Wild
While the meter may be pointing up for the Stars and Jets, all signs are currently negative for the Wild. Zach Parise is on injured reserve with a foot injury. Head coach Mike Yeo is on arguably the hottest of hot seats of any coach in the league. The team itself is in a freefall right now, losing seven consecutive games and showing precious little offensive punch.
Even though they will play the Sabres on Thursday night, the schedule doesn't get any kinder to Minnesota. They have road games coming up against the rough-and-tumble Kings and Coyotes, and they will also welcome the Avalanche to Xcel Energy Center on the 11th. This stretch of five games coming up with make or break Minnesota's season, and Yeo's job could depend on the team's performance in those games.
7 (Last Week's Rank: 7): Nashville Predators
The Predators were finally able to put an end to their five-game losing streak with a nice 3-2 victory over the Kings on Saturday night, and they followed that up with an impressive offensive evening against the Red Wings Monday, winning a 6-4 contest at Bridgestone Arena.
The team still has plenty of issues to address, including their inconsistent defense and basically non-existent scoring attack, so it will be interesting to see whether GM David Poile will make any moves in the coming weeks to either rebuild the team for this year, or to focus on the future. Shea Weber's name has been bandied about, but the 13 years remaining on his massive contract could pose an issue to teams looking to acquire his services.